[ad_1]


The word "elusive" isn't usually used to describe a food establishment, let alone a stationary restaurant. But over the past year, I have found myself squeezing it into almost every sentence I come up with about our time at Jay Fai, perhaps Bangkok's most sought-after street-side restaurant.
Jay Fai is also the name of its owner, born Supinya Junsuta, who cooks most of the dishes herself. Although it has been a local favorite for decades, Jay Fai was catapulted into global culinary stardom not too long ago after being awarded a Michelin star and featured in the Netflix food documentary "Street Food Asia", sending throngs of curious foodies and tourists to its doorstep. And this makes it elusive. It's not like it's going anywhere, but given how tiny the space is and how popular it has become, getting a slot here means queuing up early in the morning. I have tried many times, to no avail.
But if you're like me who can't get a break, fret not! We're still determined to try Jay Fai in the future, but thankfully, the Thai capital's gastronomy map is dotted with hundreds of other worthy food spots! In this article, we're sharing with you some of the best cheap eats in Bangkok other than Jay Fai.
---
WHAT'S COVERED IN THIS GUIDE?
Address: 113 ซอย จรัสเมือง Rong Muang, Pathum Wan, Bangkok 10330, Thailand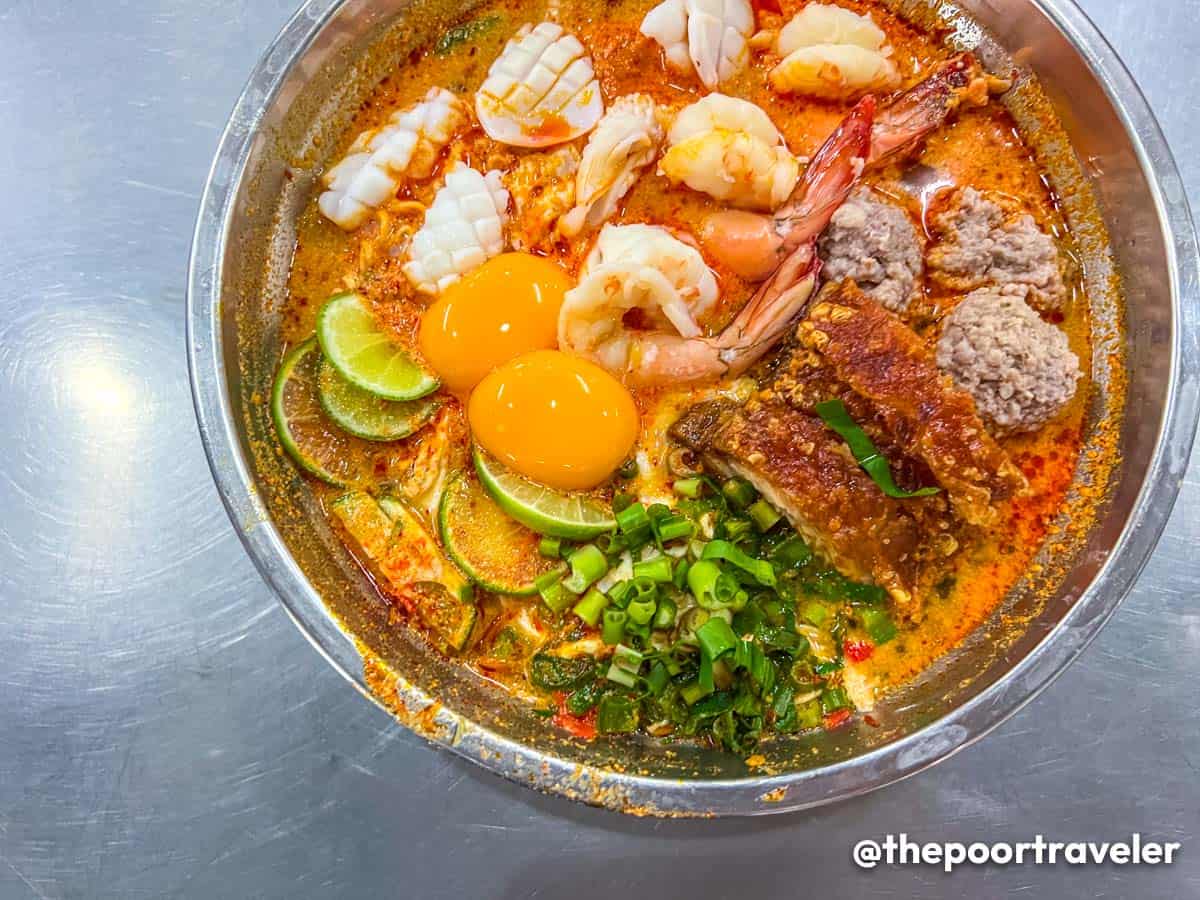 If I could devour only one Thai dish in my life — there's no doubt about it — I pick tom yum. It's that one dish I order at least once every single day I am in Thailand. And if you're looking for a Michelin Bib Gourmand awarded tom yum, look no further than Jeh O Chula or Jay Oh.
Jeh O Chula has a pretty extensive menu, but it's best known for its so-called tom yum mama, a giant bowl of tom yum soup drowning a generous serving of noodles. It's good for two, but if you don't have a big appetite, it could easily feed a group of four or five. But because it has noodles, try to finish it right away. Otherwise, they might absorb all the broth, which is the perfect mix of sour and aromatics. It's one of the most unforgettable dishes I've had the pleasure of stuffing my face with in Thailand.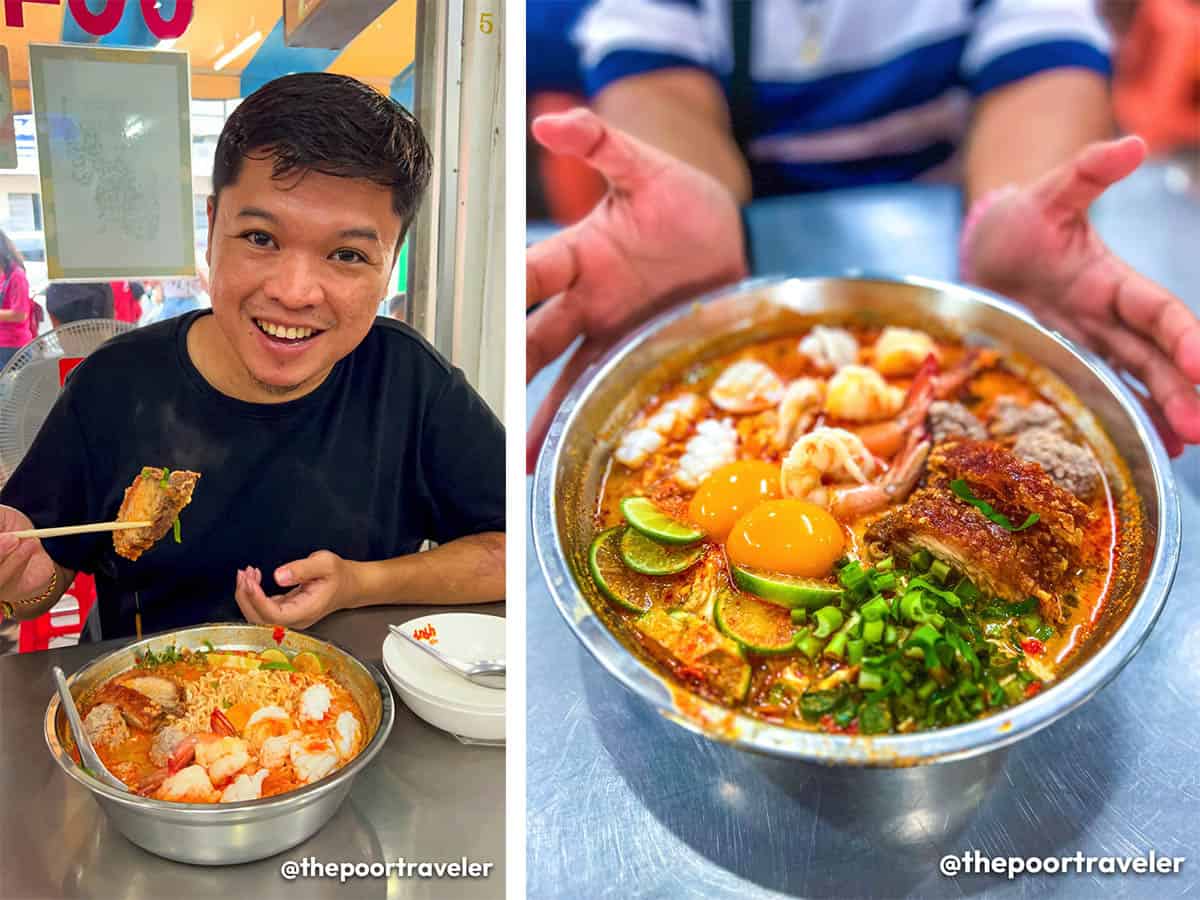 The basic option costs only ฿150. Other versions have additional toppings, but we ordered the one with Jay Oh's signature crispy pork belly, meatballs, and assorted seafood like shrimps and squid, at only ฿300.
Another dish we recommend is its salmon salad (฿300), composed of huge cuts of fish, drizzled with spicy-and-sour citrus based dressing. Mind you, I already adored its tom yum, but this salmon salad turned out to be my favorite out of everything we ordered.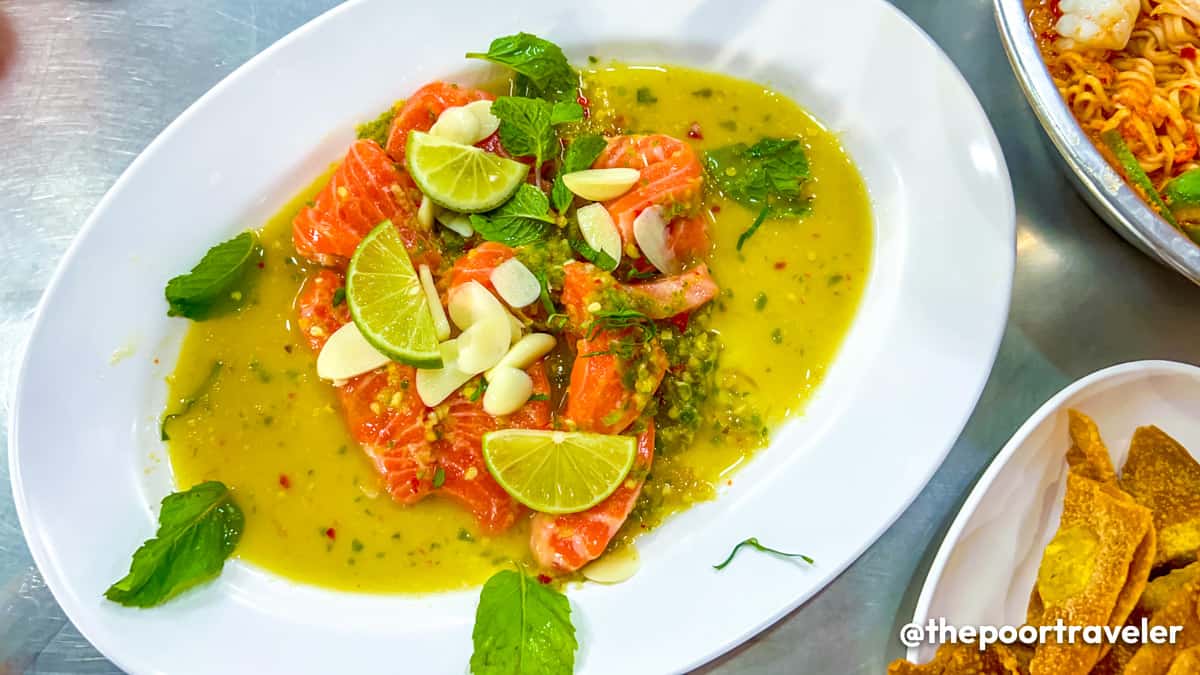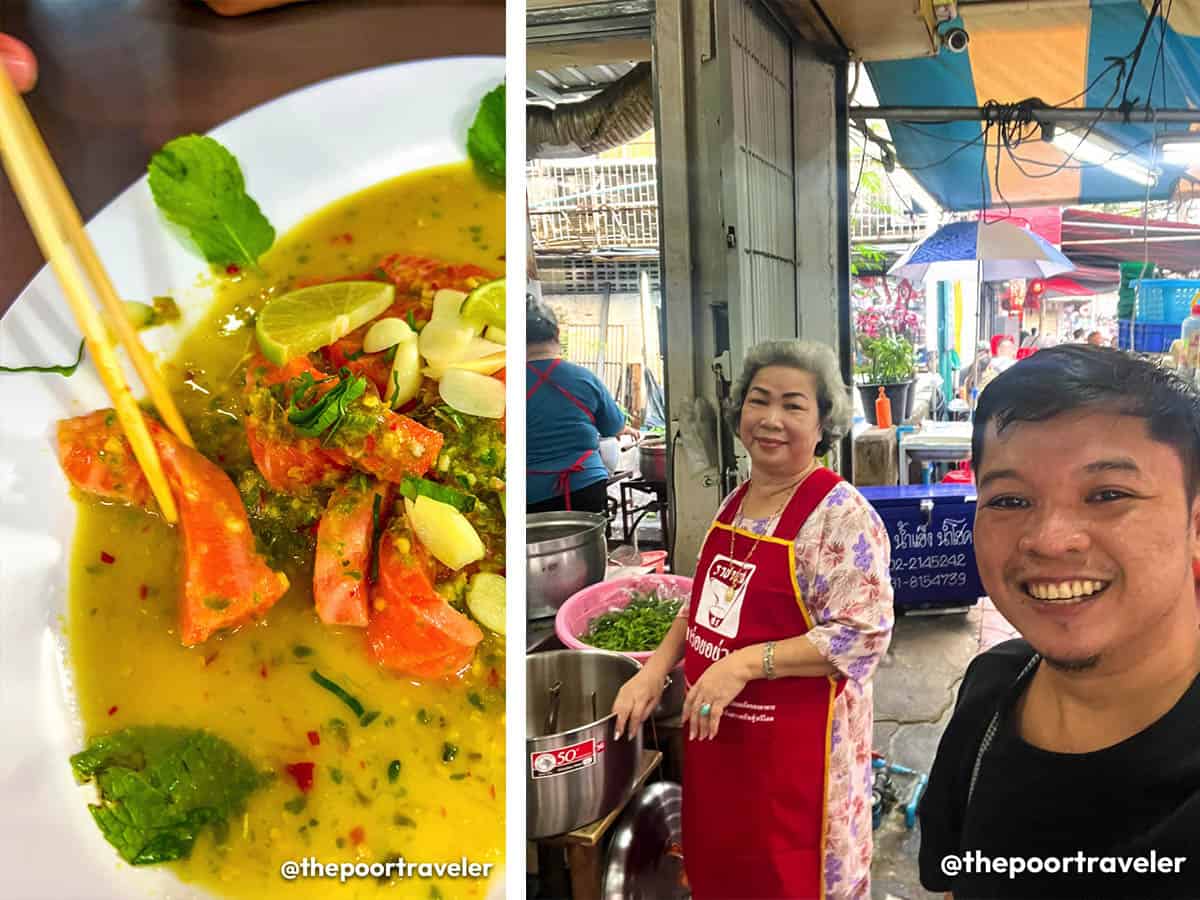 By the way, you'll likely be asked how spicy you want your tom yum and salad to be. If you can't handle too much heat, don't be shy to let them know. We ordered "mild" but it was still pretty hot for us. The flavors radiated through regardless, so it was perfectly fine. But we were drenched in sweat by the time our meal was over.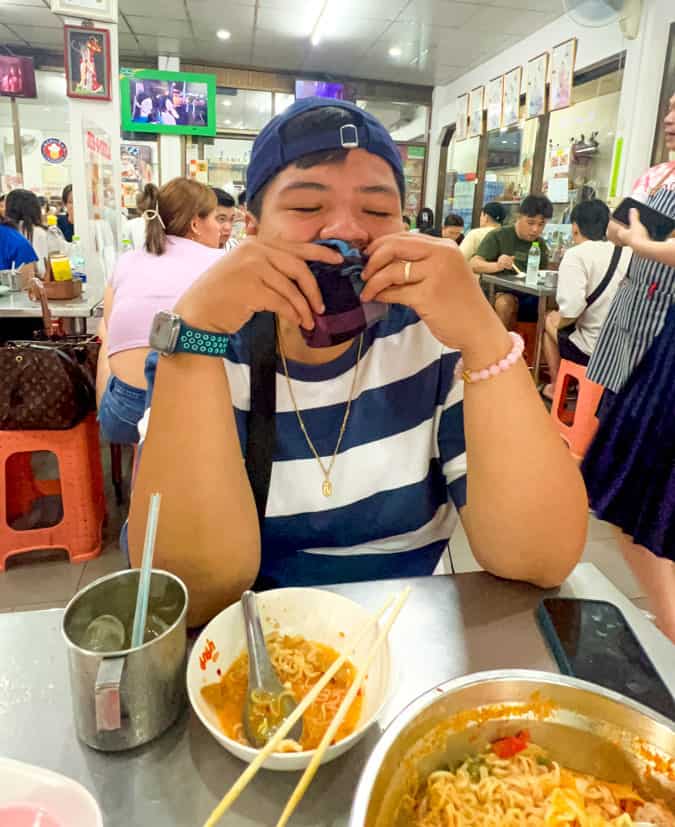 The queue here is also crazy! Lining up can take as long as two hours, if you don't show up early. Fortunately, there is a way to skip the main line. You can reserve a slot via Klook! Those who booked with Klook has a separate, dedicated line that is much shorter and moves much faster. If you fail to reserve with Klook, try to arrive early. It opens at 4:30 PM, but the lines might already be long at this time.
JEH O CHULA (JAY OH)

Specialty: Tom Yum Noodle Soup

Operating hours: Daily, 4:30 PM-12:00 MN

Jeh Oh Chula Prices
Tom yum mama: ฿150
Tom yum mama with crispy pork, meatballs & seafood: ฿300
Salmon salad: ฿300

Location: 113 ซอย จรัสเมือง Rong Muang, Pathum Wan, Bangkok

On Google Maps, search: Jeh O Chula
---
Address: 313 315 Maha Chai Rd, Samran Rat, Phra Nakhon, Bangkok 10200, Thailand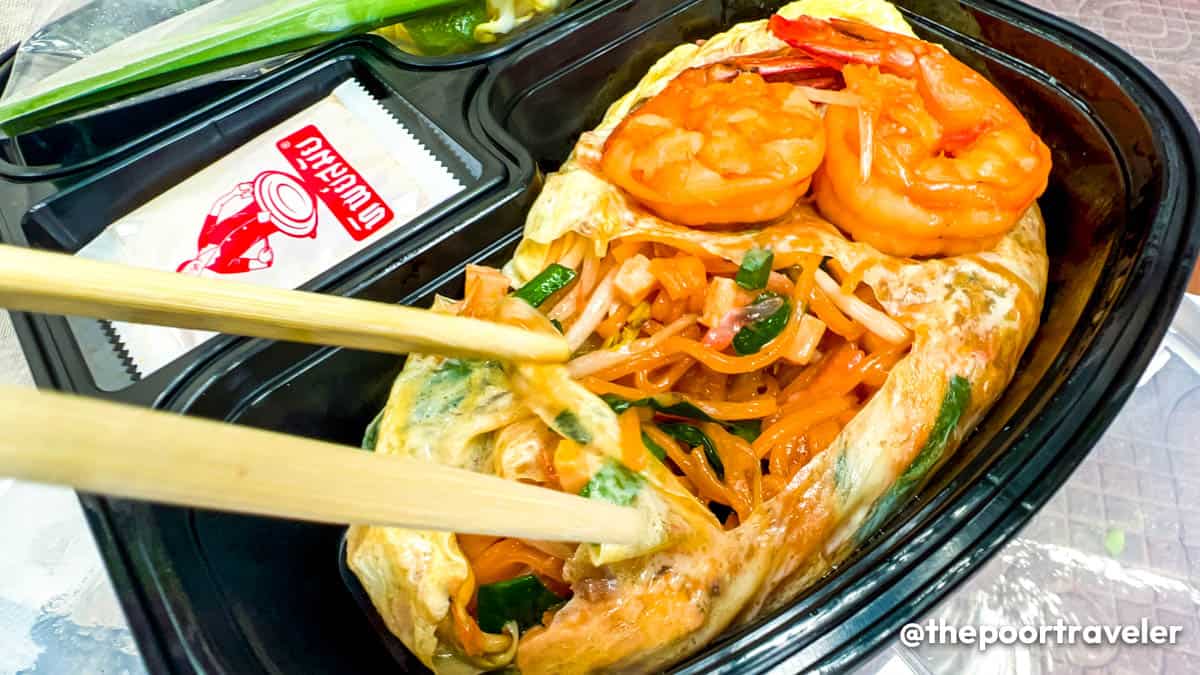 Most hopefuls who fail to get a number at Jay Fai simply turn around and leave. Little do they know that just a few meters away is another legendary establishment bestowed with a Bib Gourmand recognition by the Michelin Guide. This is Thipsamai Pad Thai Pratoopee, built in 1939 just before World War II and is regarded by many as the oldest pad Thai restaurant in the country.
Just like at its neighbor's, the line at Thipsamai grows fast, too! But it's definitely worth the wait. I was told that some locals are not too fond of it because, they say, it isn't representative of the traditional pad Thai we commonly see in the country. First, it's wrapped in fried egg that you need to slice open to reveal the sen chan rice noodles. Yes, this is another thing that's different. These noodles are noticeably thinner. And they're orange, thanks to the its signature shrimp oil that covers it all over, giving it a bolder, more seafoody flavor, complimented well by the sweet-and-sour combination of the tamarind.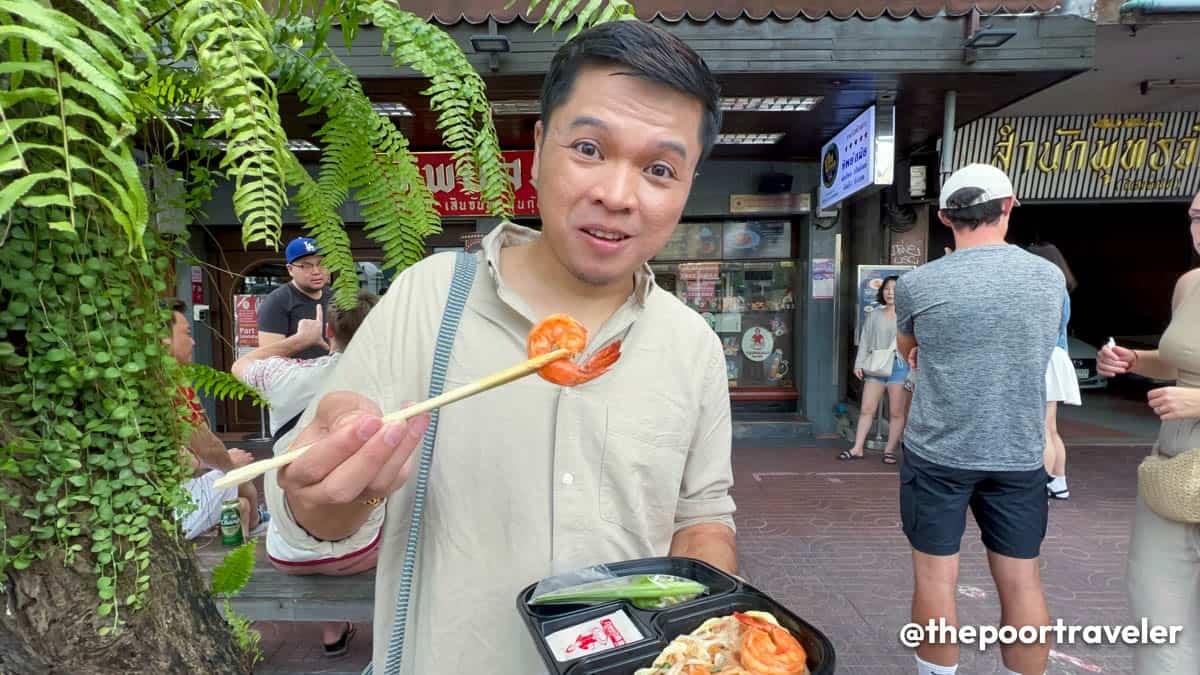 You can choose the protein to accompany the noodles, but the prawns are the bestseller.
Although there is a dine-in space, it's mostly known as a takeaway booth. It's open from 10:00 AM until midnight, but it only accepts dine-in customers starting 5:00 PM.
THIPSAMAI PAD THAI PRATOOPEE

Specialty: Pad Thai

Thipsamai Prices:
Pad Thai (plain): ฿105
Pad Thai with prawns: ฿150

Operating Hours:
Takeout Only: 10:00 AM–12:00 MN
Dine in: 5:00 PM–12:00 MN

Location: 313 315 Maha Chai Rd, Samran Rat, Phra Nakhon, Bangkok

On Google Maps, search: Thipsamai
---
Address: 115/5 Dinso Rd, Baworniwet, Phranakorn, Bangkok 10200, Thailand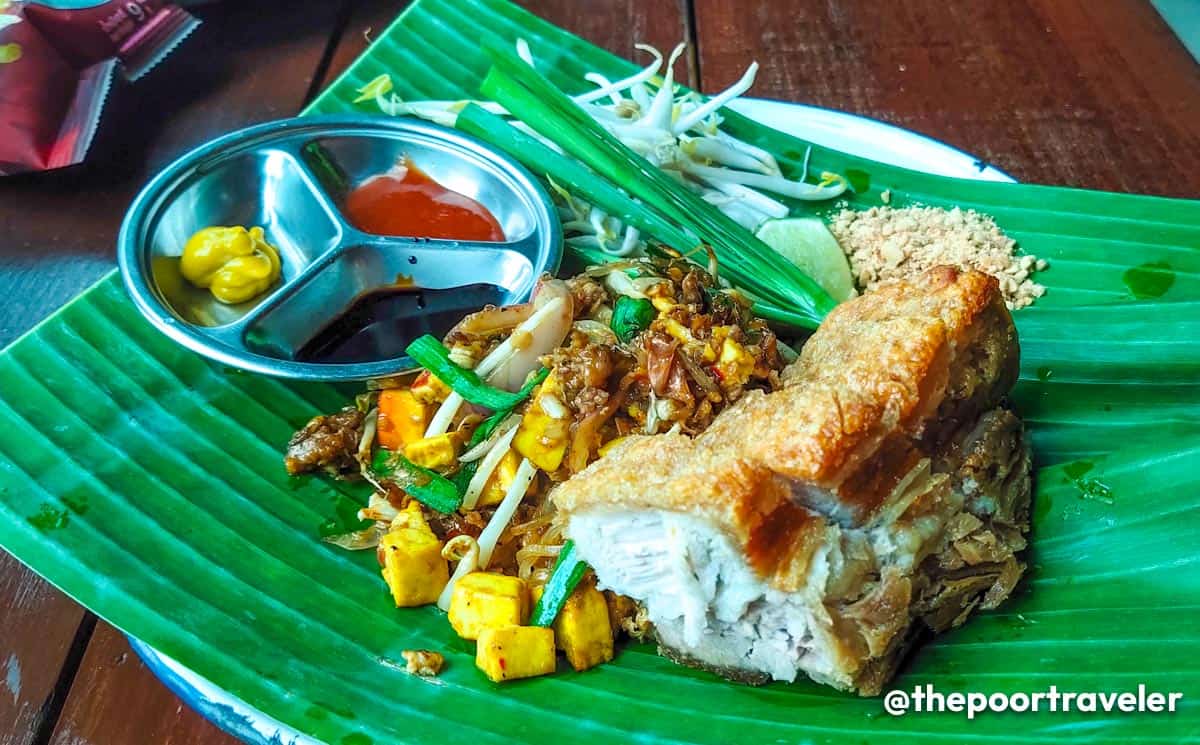 Pad Thai Fai Ta Lu is another Michelin-listed pad Thai spot in Bangkok, just around the Democracy Monument, a 10-minute stroll from Jay Fai. If Thipsamai's not-so-secret weapon is its shrimp oil, Fai Ta Lu takes pride in using Berkshire pork, chopped into small pieces and wok-sauteed in its own fat, giving it a meaty and smoky flavor even before it gets mixed with tamarind juice.
The plain pad Thai costs ฿100, but we recommend the pad Thai fai ta lu moo hob, priced at ฿220. It's the same noodle dish, but topped with Berkshire pork that is boiled in herbal soup, smoked in a dragon jar, and then fried to a crisp. It's then served with black sweet soy sauce and mustard.
Taste-wise, I enjoyed Thipsamai's a bit more only because my palate tends to favor seafood more than pork. But if you're leaning more towards meaty profiles, Pad Thai Fai Ta Lu could deliver more of those.
PAD THAI FAI TA LU

Specialty: Pad Thai

Fai Ta Lu Prices
Pad Thai (plain): ฿100
Pad Thai moo hob (with pork): ฿220

Operating Hours:
10:00 AM – 7:00 PM

Location: 115/5 Dinso Rd, Baworniwet, Phranakorn, Bangkok

On Google Maps, search: Pad Thai Fai Ta Lu @ Dinso Rd
---
Address: Wisut Kasat, Bang Khun Phrom, Phra Nakhon, Bangkok 10200, Thailand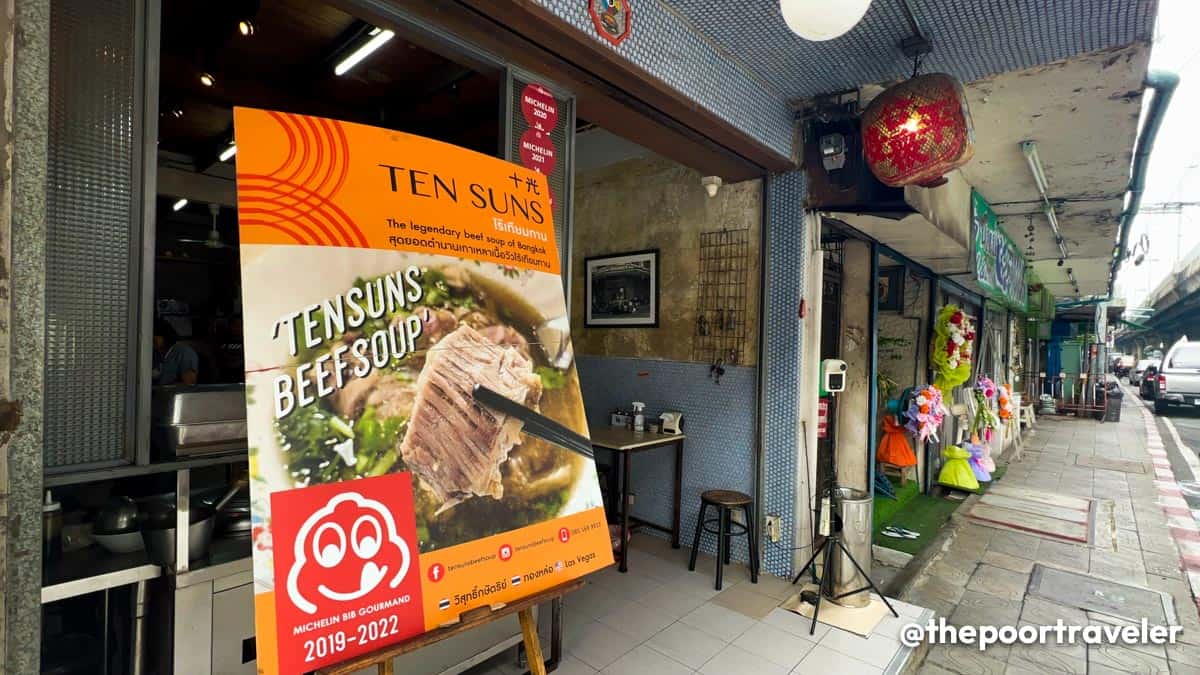 Another Michelin Bib Gourmand awardee is Ten Suns, located not too far away from Khao San Road, probably around 15 minutes on foot. This family-run culinary institution boasts a heartwarming braised beef soup that won't burn a hole in your pockets, at only ฿140 per bowl.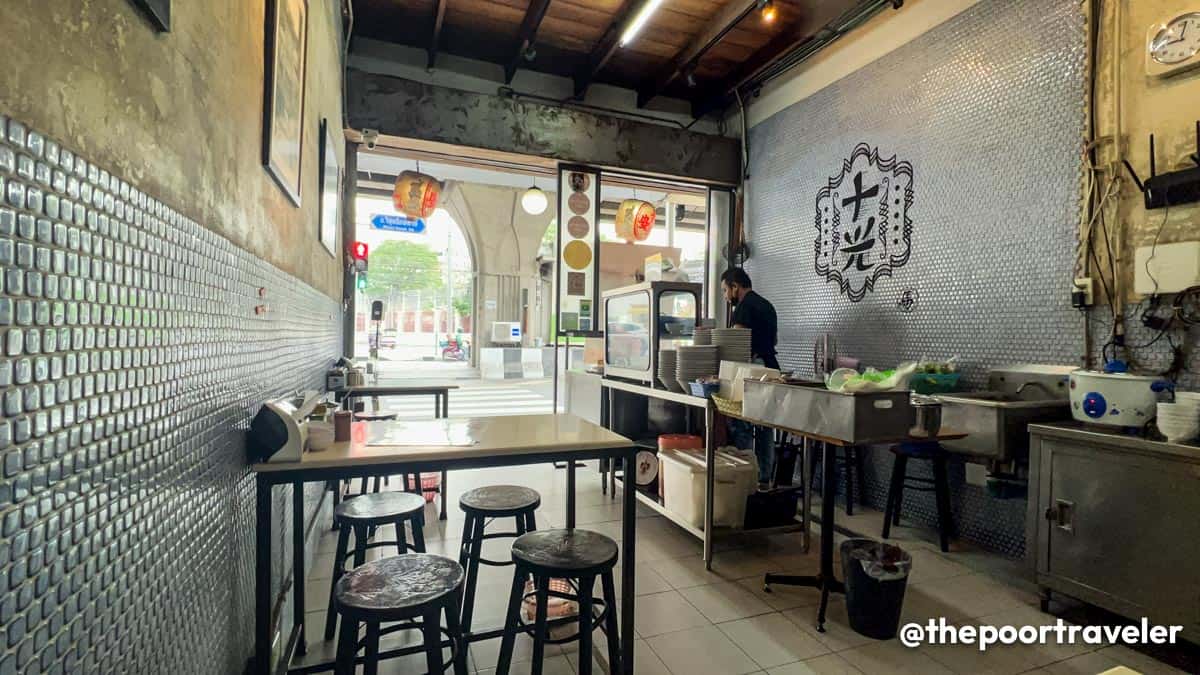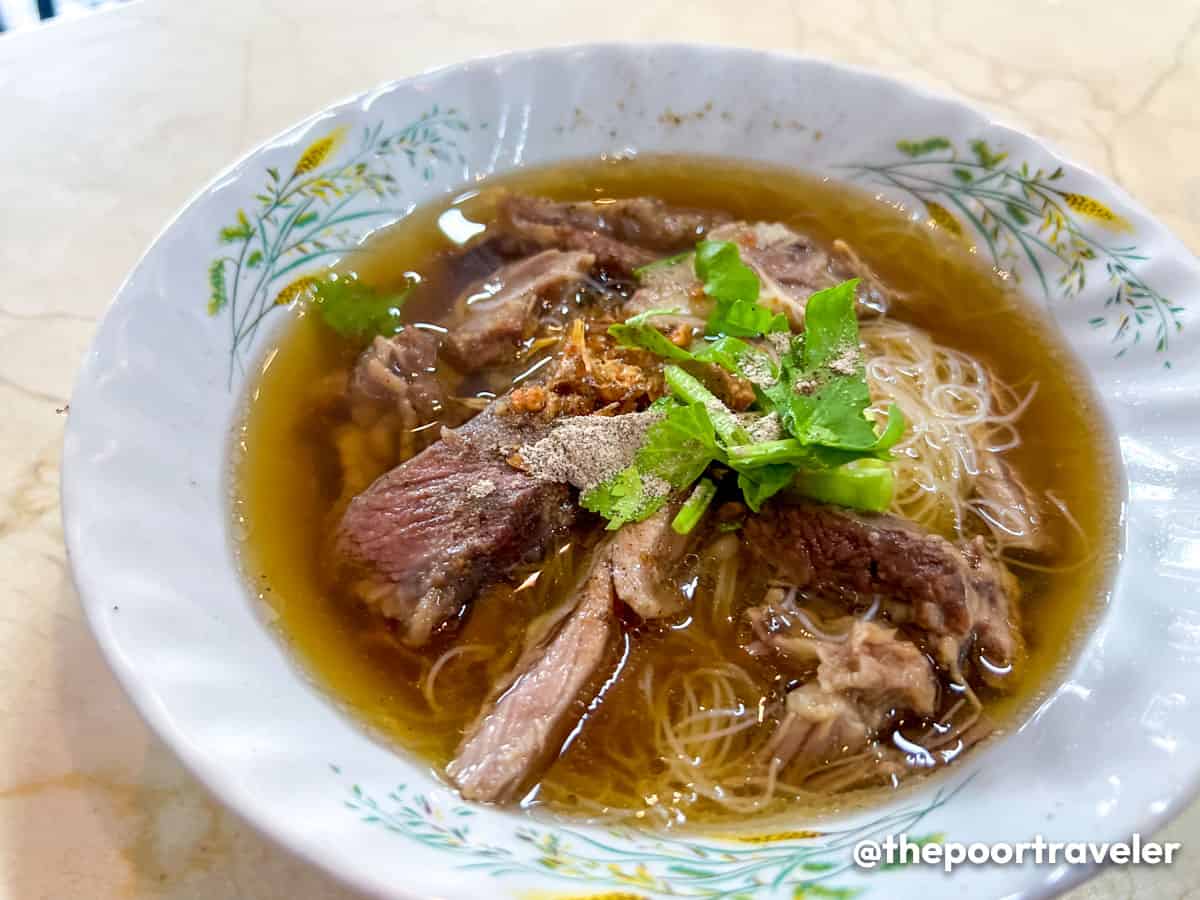 As soon as I took a seat, a staff member approached me with the menu and asked me to choose. I was given a choice: just the soup or with noodles. I opted for the latter. And then I was asked to choose again: the thicker flat rice noodles or the thinner ones. Perhaps to break the language barrier, she actually brought the noodles in front of me. I picked the latter. It didn't stop there: with beef brisket or with assorted beef cuts like cheek, tendon, shank, shoulder, and tongue. This time, I wanted the latter, but for some reason — perhaps I was still groggy because it was too early in the morning — I pointed at the brisket. 😅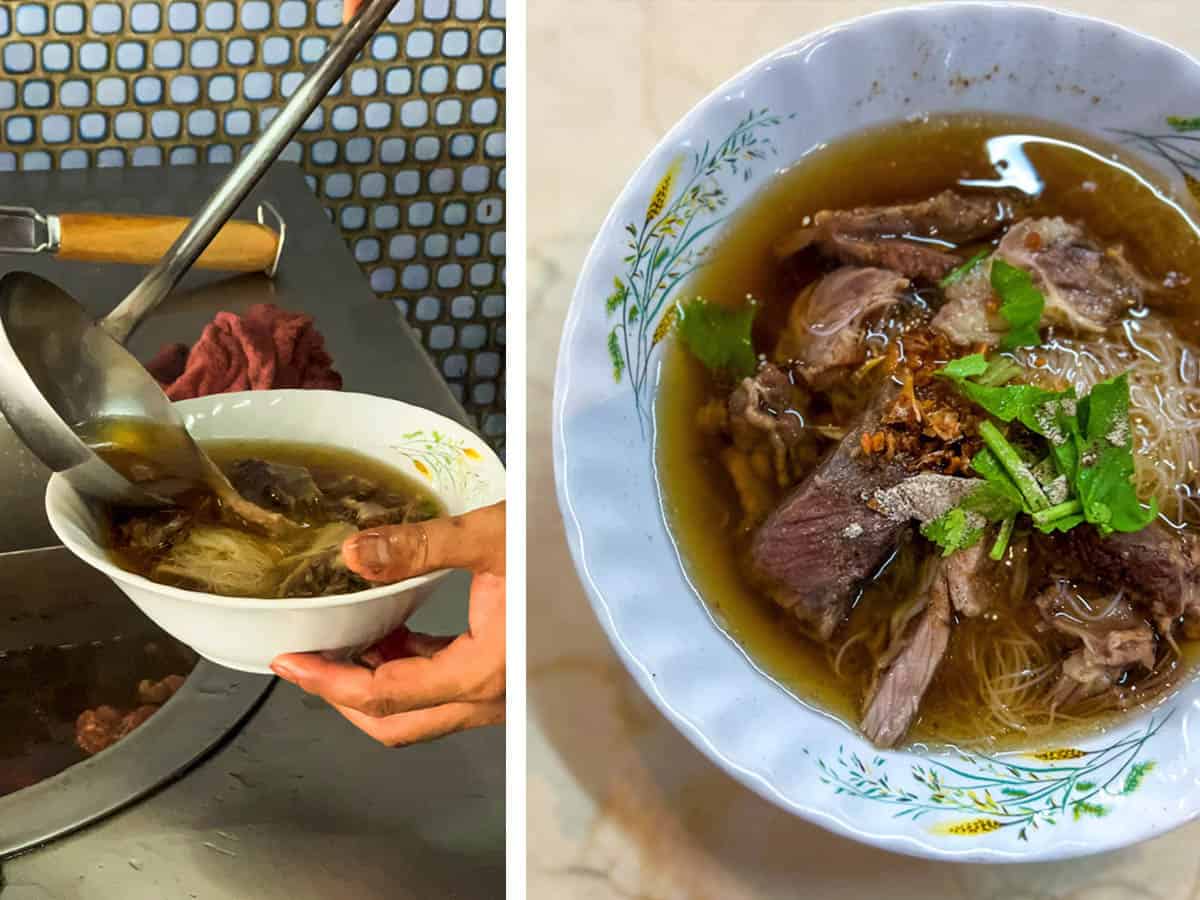 But it was still pretty good. The meat was slow cooked until it was so soft that I couldn't even lift it with chopsticks without disintegrating. And the soup, wow, T-A-S-T-Y. It wasn't partucularly rich or viscous or pungent, but it was flavorful. Every sip was an umami tsunami, yet it didn't leave any aftertaste or a layer of grease in my palata. It was clean and light, but still very comforting and filling. And perfect because I still had hangover from all the drinking the night before.
TEN SUNS

Bestseller: Braised Beef Soup (฿140)

Operating Hours: Tuesday-Sunday 9AM-4PM
Closed: Mondays

Location: Wisut Kasat, Bang Khun Phrom, Phra Nakhon, Bangkok 10200, Thailand

On Google Maps, search: Ten Suns
---
Address: 962 Phetchaburi Rd, Makkasan, Ratchathewi, Bangkok 10400, Thailand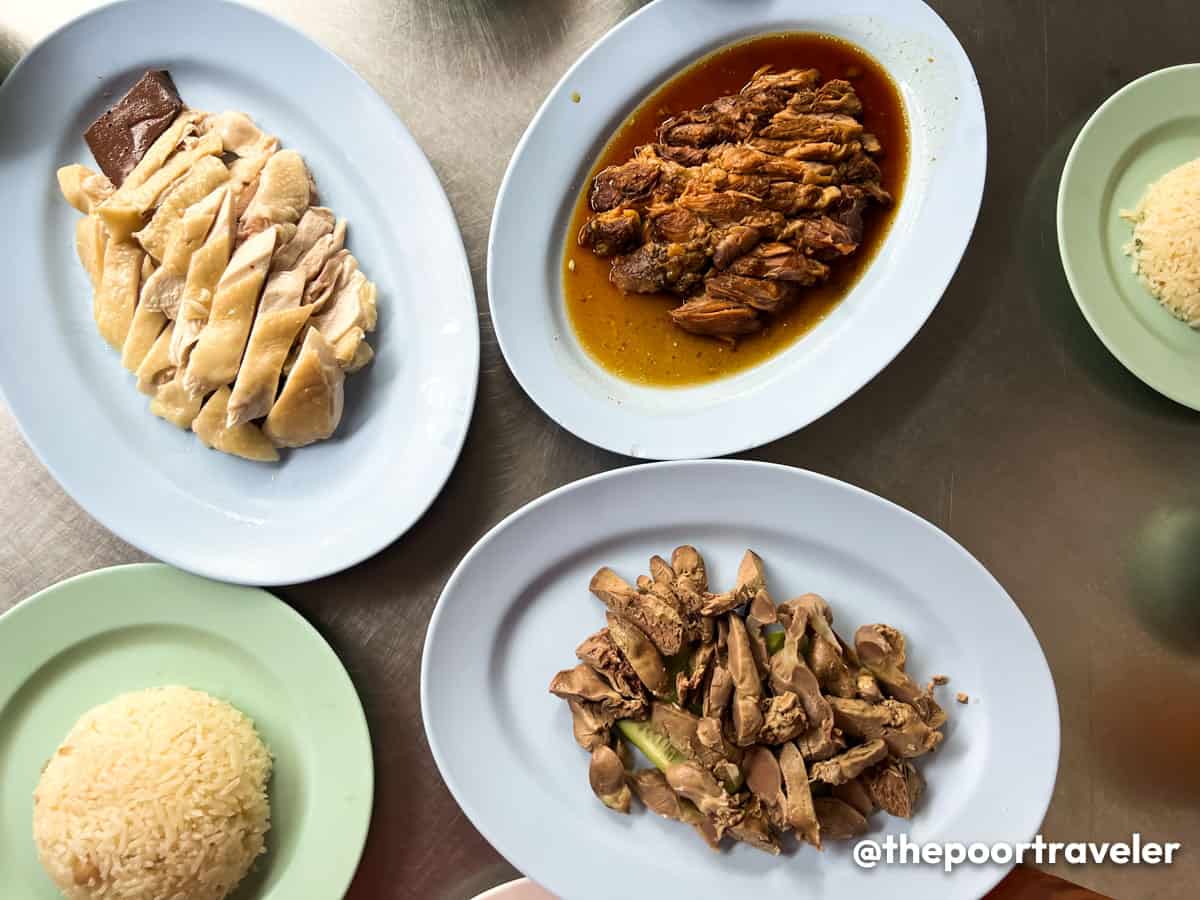 If you intend to spend a day shopping in Pratunam, don't miss Go Ang Pratunam Chicken before you go on retail therapy. Situated just beside Platinum Mall and across the street from Palladium World Shopping. Yep, it's also a Michelin Bib Gourmand recipient! It's also an established name in the area, whipping out plates of bestselling Hainanese chicken rice (฿50) since 1960.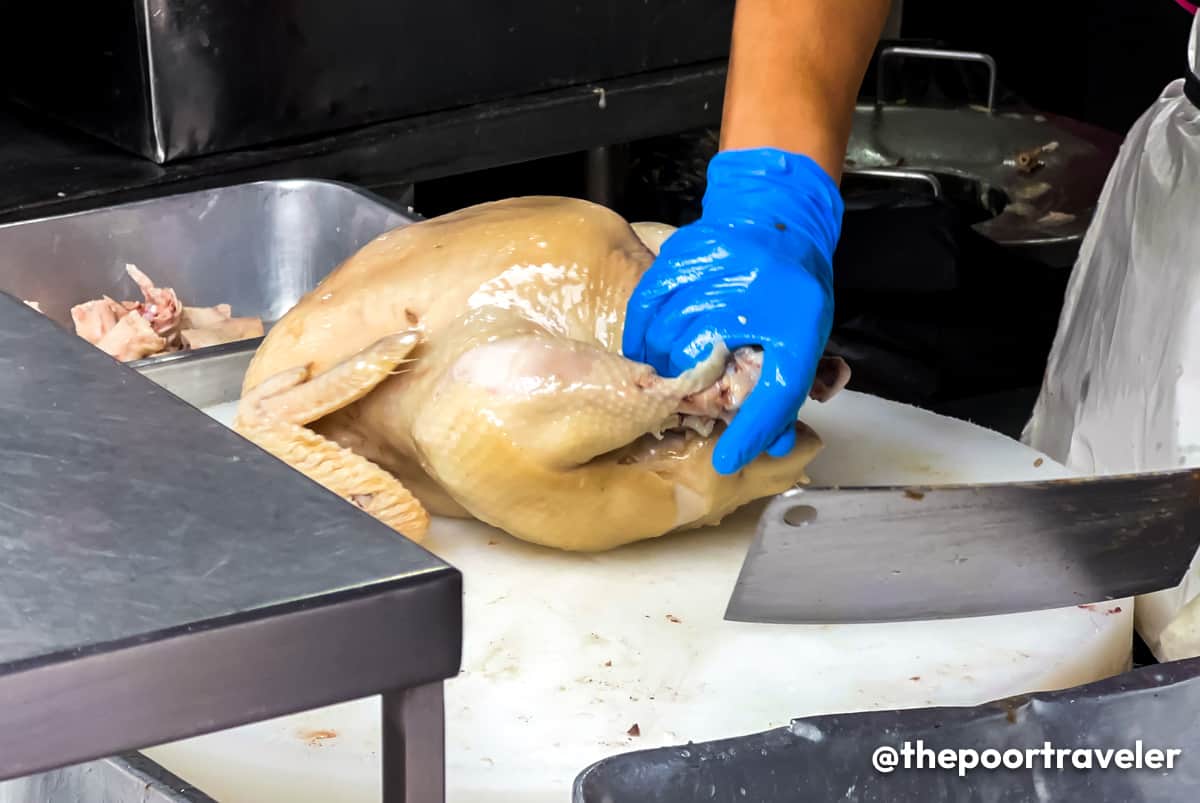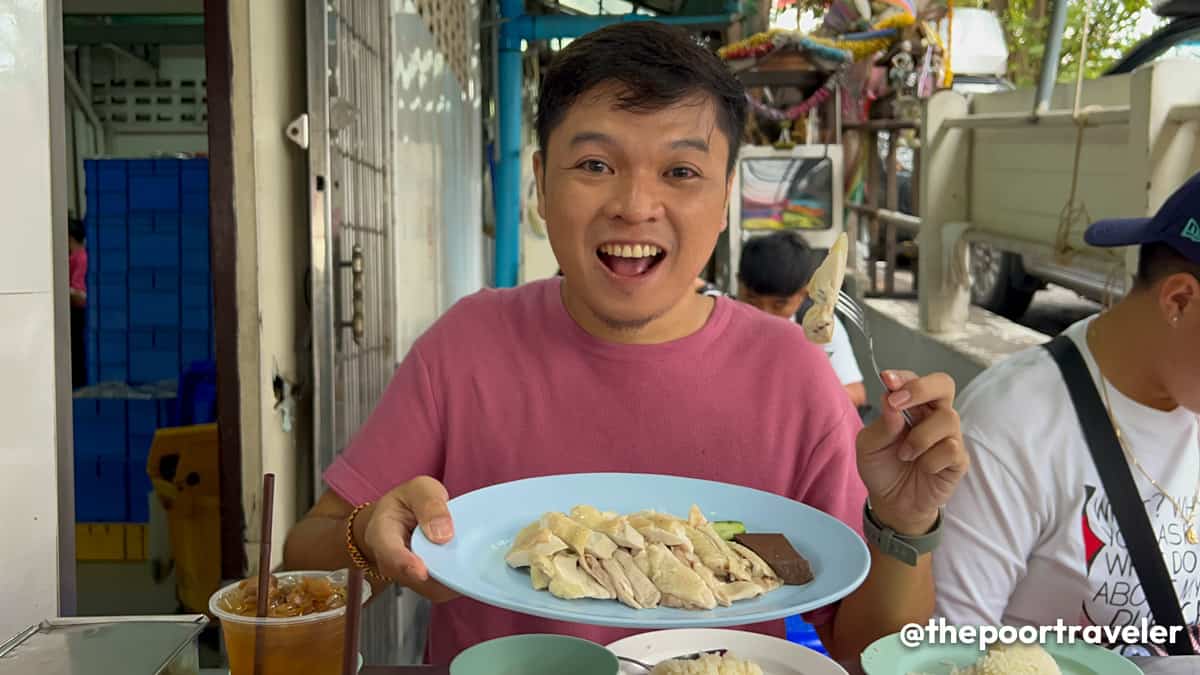 While single servings are available, if you're a group, consider the for-sharing items, which costs ฿70 for regular and ฿140 for large cuts. Each order comes with chicken soup and a special sauce, the perfect salty companion for the very subtle flavors of the bird. And because we're in Thailand, expect the sauce to be hot and spicy.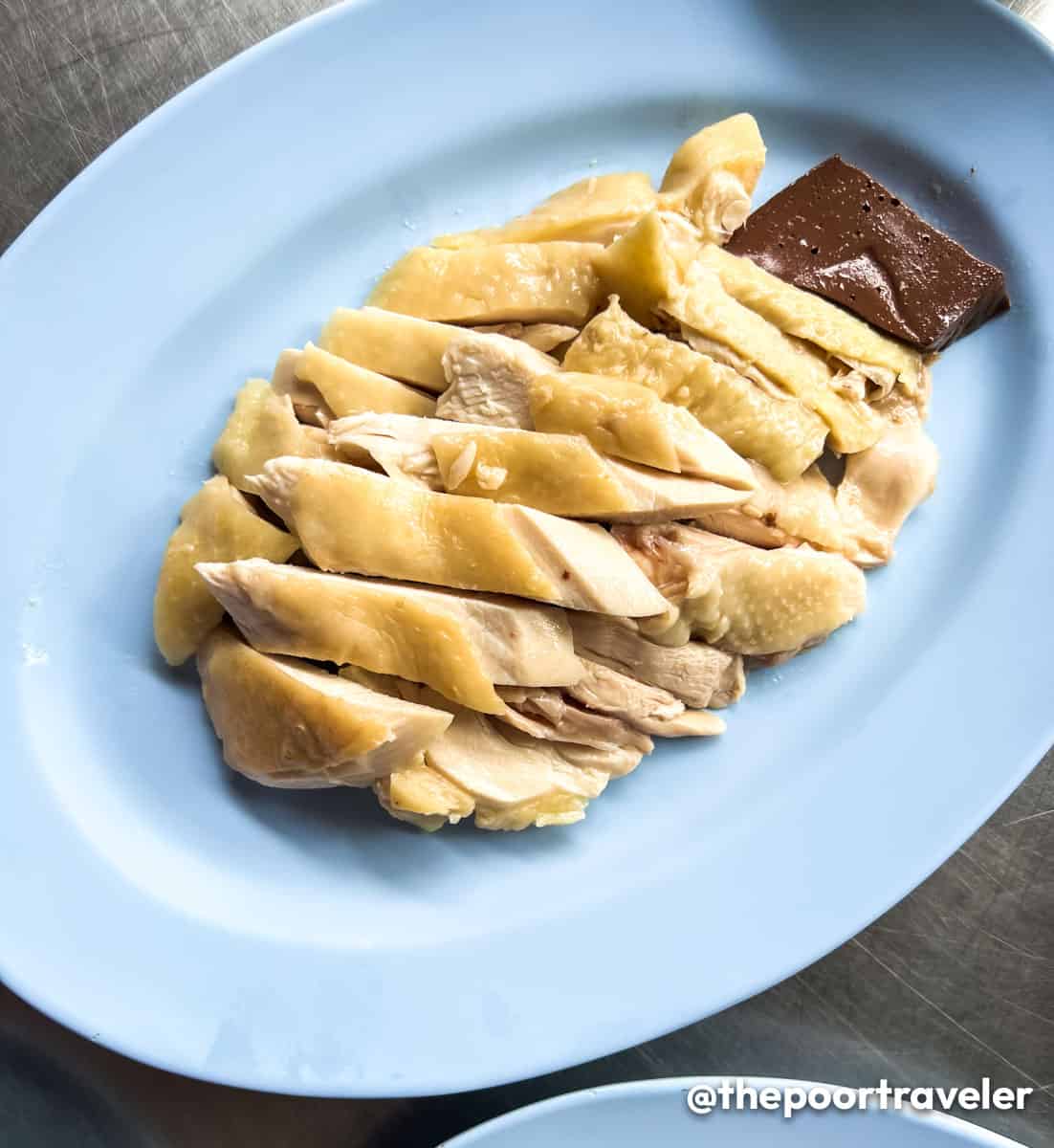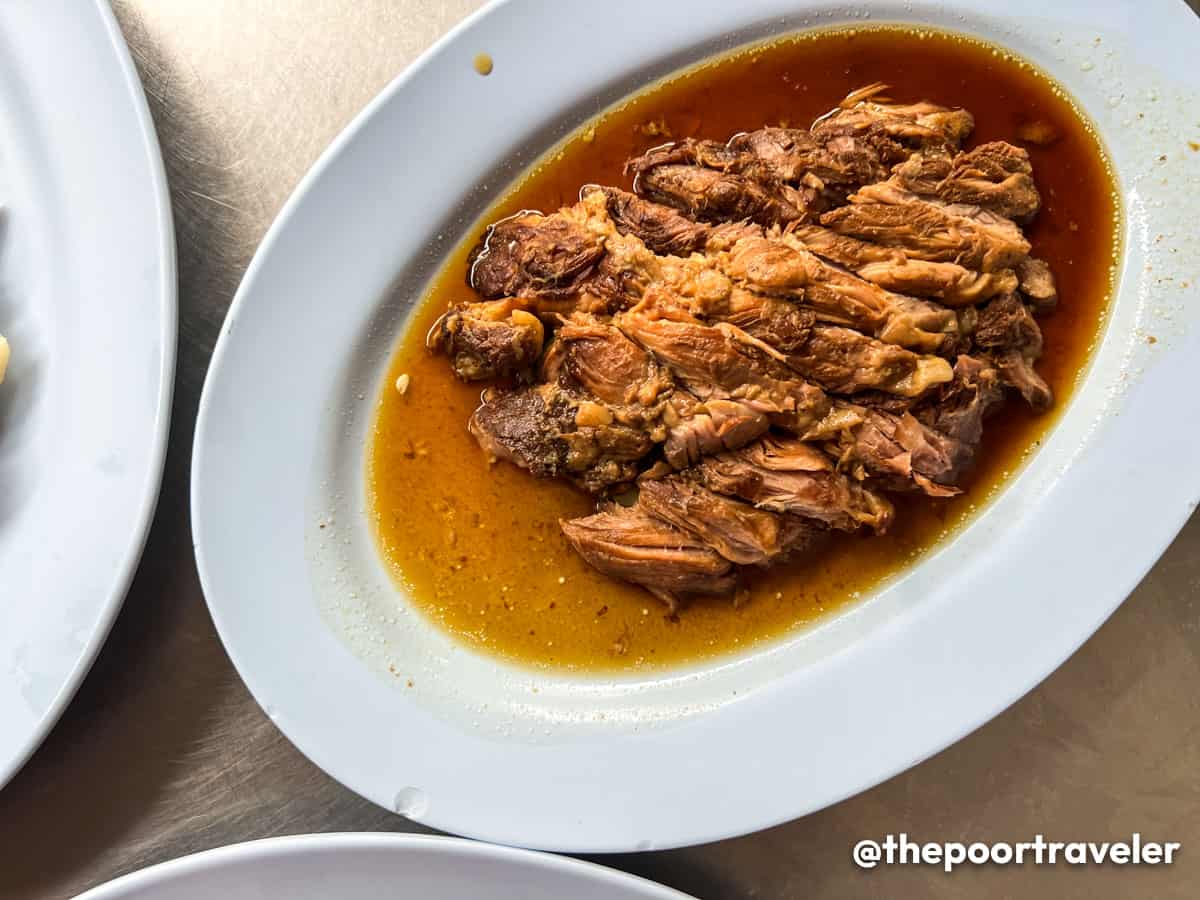 To be honest, while the taste of the Hainanese chicken was on point, there were parts that were a bit dry. We actually preferred its other signature dish — braised pork (฿50 for solo, ฿70 for regular group cut, ฿140 for large serving). The meat was soooo tender and the umami-ness of its sauce seeped deep.
We also ordered chicken giblets (i.e. liver and gizzard).
Overall, we had a satisfying pre-shopping breakfast here. And the staff were also friendly and attentive.
GO ANG PRATUNAM CHICKEN RICE

Bestseller: Hainanese Chicken Rice

Operating hours: Daily, 6:00 AM-2:00 PM, 3:00 PM – 10:30 PM

Location: 962 Phetchaburi Rd, Makkasan, Ratchathewi, Bangkok

On Google Maps, search: Go Ang Pratu Nam Chicken Rice
---
Address: 930 Phetchaburi Rd, Makkasan, Phaya Thai, Bangkok 10400, Thailand
Kuang Heng Chicken is another incredibly popular chicken spot in Pratunam and is widely considered Go Ang Chicken's rival in the area. Both specialize in Hainanese chicken rice. But unlike Go Ang, Kuang Heng doesn't have a Michelin Guide citation but it was established earlier, in 1934.
They may not have a Michelin award, but for what it's worth, we liked its Hainanese chicken much better than Go Ang. As previously mentioned, the chicken we got at Go Ang had dry parts. But here at Kuang Heng, the meat was so soft, silky and succulent! Not a morsel was dry, rough, or tough. It's very close to the best we've tried in Singapore.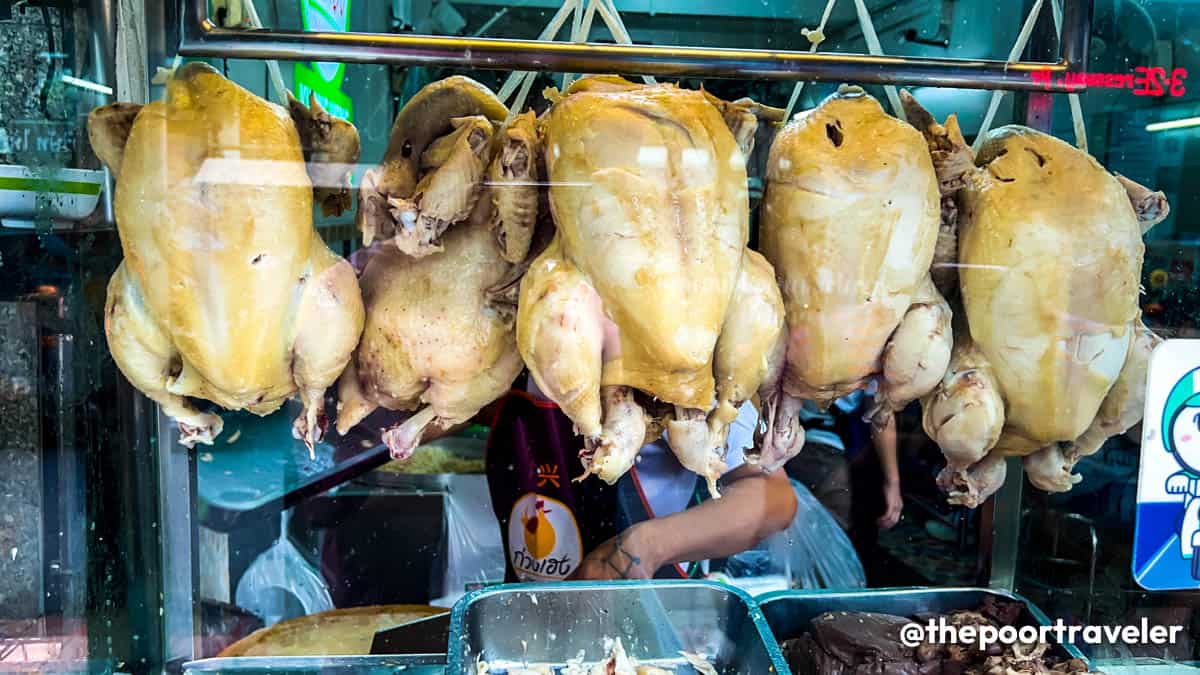 Each order comes with chicken soup, chicken sauce, and a piece of blood curd. To be fair, we preferred Go Ang's sauce and soup. Kuang Heng's broth was too aromatic for my liking. But if it's just the actual chicken, I'd pick Kuang Heng.
Another crowd favorite here is the deep-fried chicken. The scent alone could drive any passerby crazy. In fact, coming to Pratunam, we didn't know about Kuang Heng. We were only magnetized by the inviting smell of fried chicken! It's not just our noses that got delighted in the end. Each piece was crispy on the outside and juicy inside. It was served with sweet chili sauce.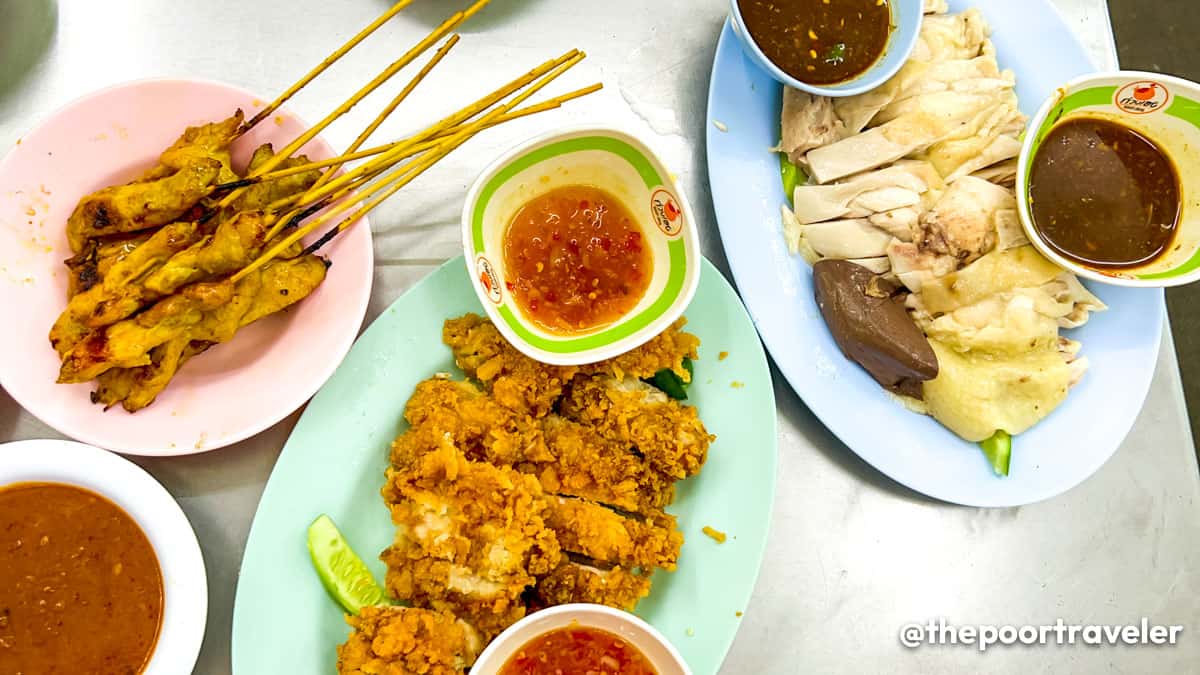 Pork satay and chicken satay are also pretty popular here, at ฿80 per 10 sticks. Yes, ฿8 lang per stick. Each order comes with peanut sauce, vinegar, and a small plate of cucumber, onions, and chili peppers.
KUANG HENG PRATUNAM CHICKEN RICE

Bestsellers: Chicken rice & satay

Operating hours: Daily, 7:00 AM-10:00 PM

Hainanese chicken
Single with rice: ฿50
For sharing: small ฿60, medium ฿100, ฿150

Deep fried chicken
Single with rice: ฿50
For sharing: small ฿60, medium ฿100, ฿150

Chicken or pork satay:
10 sticks: ฿80

Address: 930 Phetchaburi Rd, Makkasan, Phaya Thai, Bangkok

On Google Maps, search: Kuang Heng Pratu Nam Chicken Rice
---
Address: 137/1-3,9 10 Sanam Khli Alley, Lumphini, Pathum Wan, Bangkok 10330, Thailand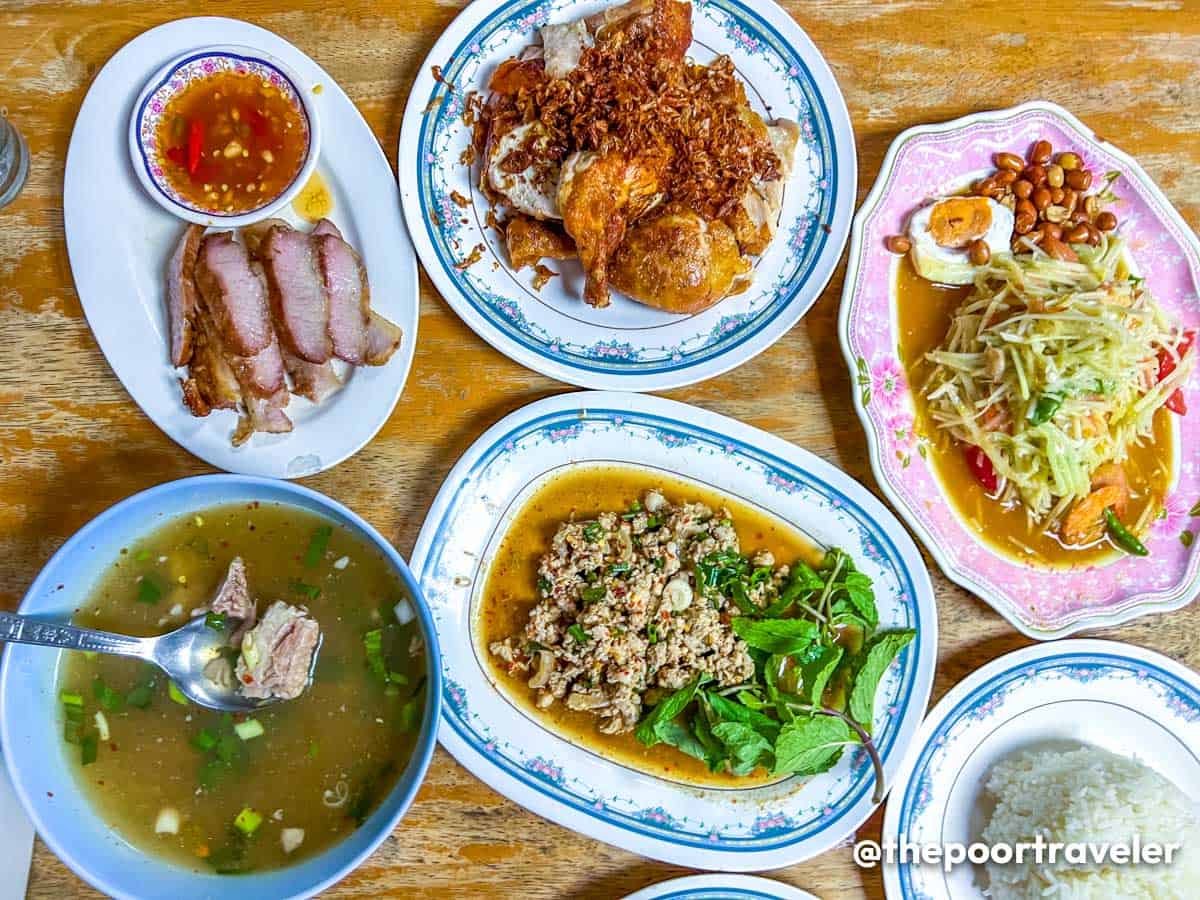 Since we're already on the topic of fried chicken (called gai tod in Thailand), another go-to spot among locals is Soi Polo Fried Chicken. Like many of the restos on this list, it's also proud of its Michelin Bib Gourmand award.
Soi Polo started out as a humble street stall, but with the support of its regular patrons eventually grew into a proper sit-down restaurant. I'm not sure what marinade it uses in its signature chicken or if it gets scalded in salted water first, but it is salted and then deep fried whole. It is then drained to remove the extra oil overnight, to be prepared and chopped upon order. And once it's on the plate, it's topped with a massive heaping of crunchy fried garlic.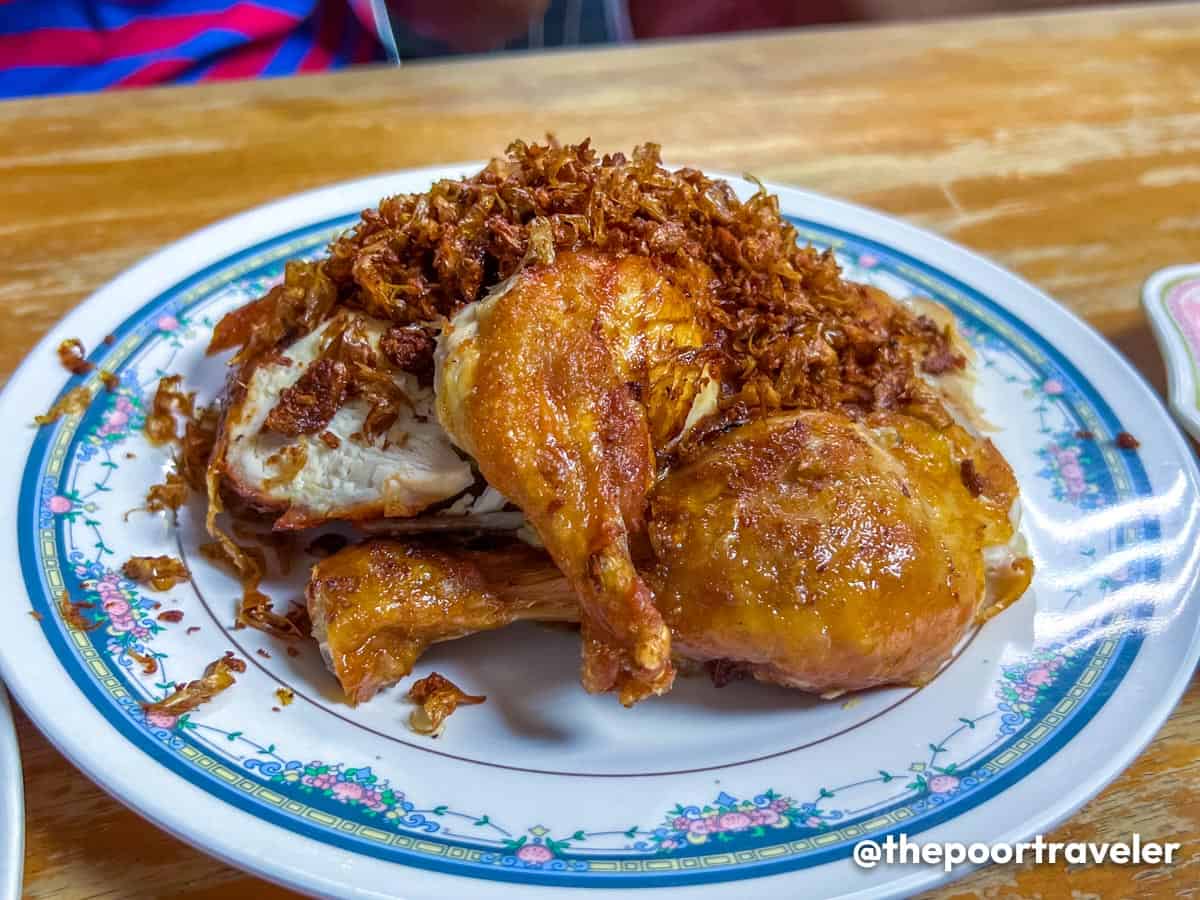 Unlike other fried chickens, it's not battered and has no breading. Yet, its thin skin remains crispy, concealing tender inner meat. With no or little effort, the flesh comes off the bones. And when you sink your teeth into it, you'll find it still juicy. The garlic adds more seasoning and texture.
We also ordered the following specialties:
Papaya salad (som tam) with salted egg and dried shrimp. Very tasty and spicy. It's a giant serving for its price. ฿80.
Larb (laap). Spicy sour minced meat dish available in pork, chicken, duck and beef versions. ฿80.
Grilled pork neck. Soft, smoky, and sinful. ฿100.
Spicy pork soup. Reminiscent of our own sinigang but with cilantro. It was good, but I had better at other kerbside carts at a cheaper price. ฿80.
Fried curry fish cake. Think of it as firm curry-flavored kikiam served with sweet chili-based dip. ฿120.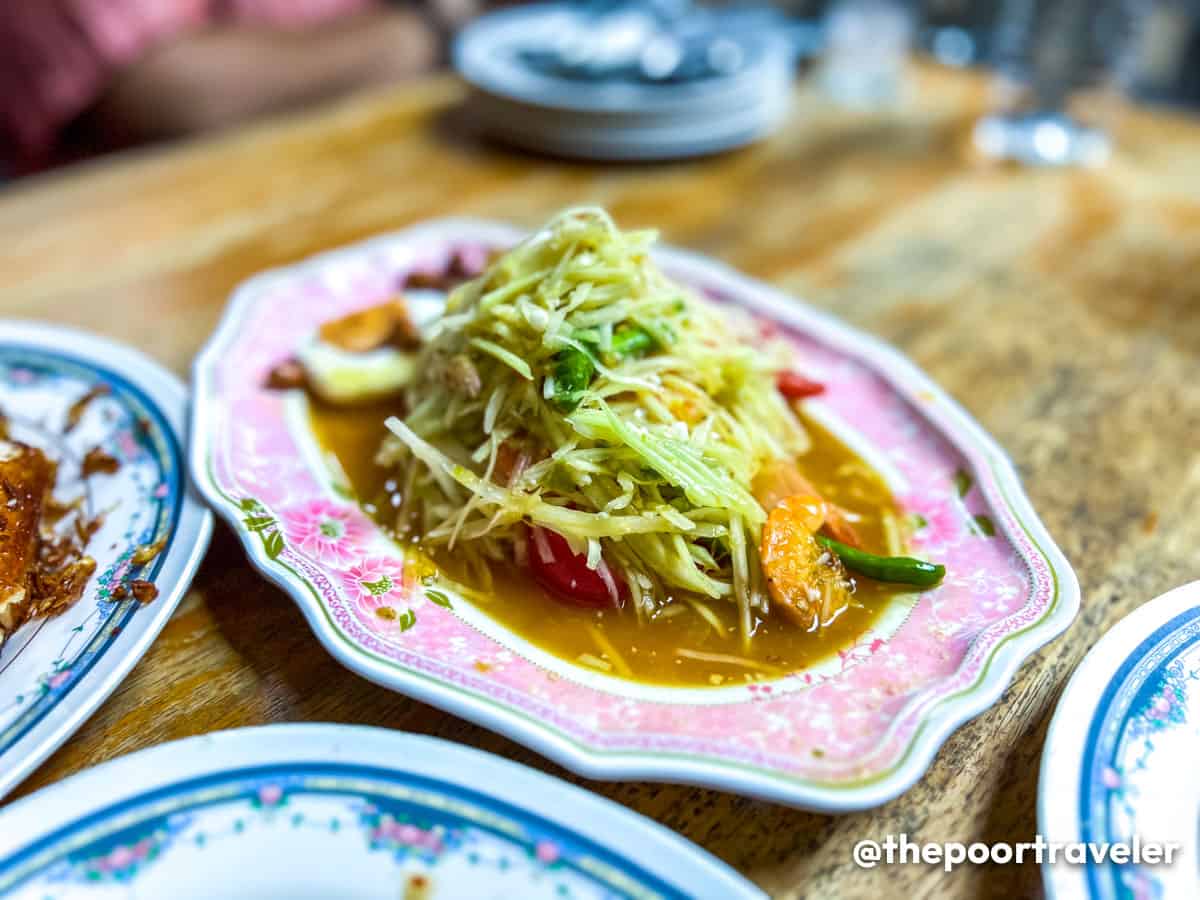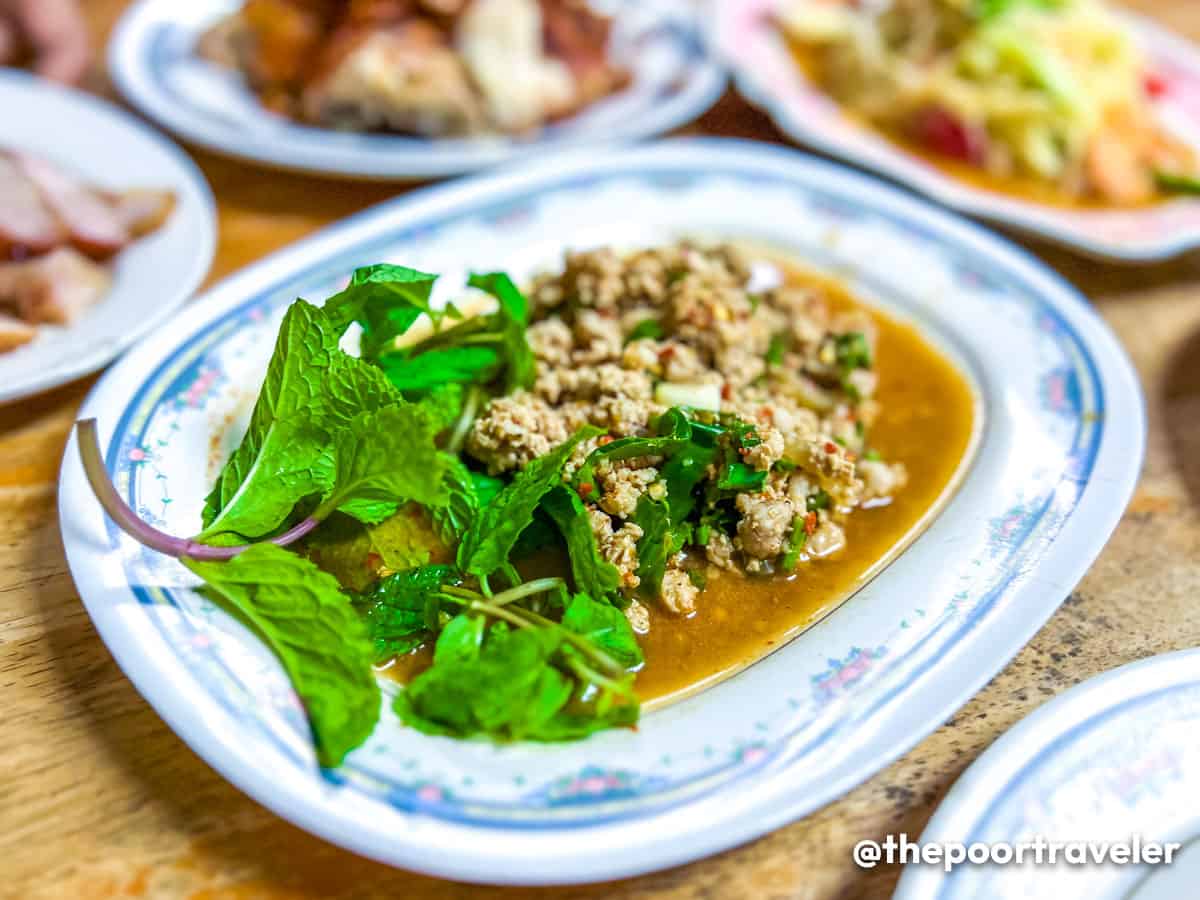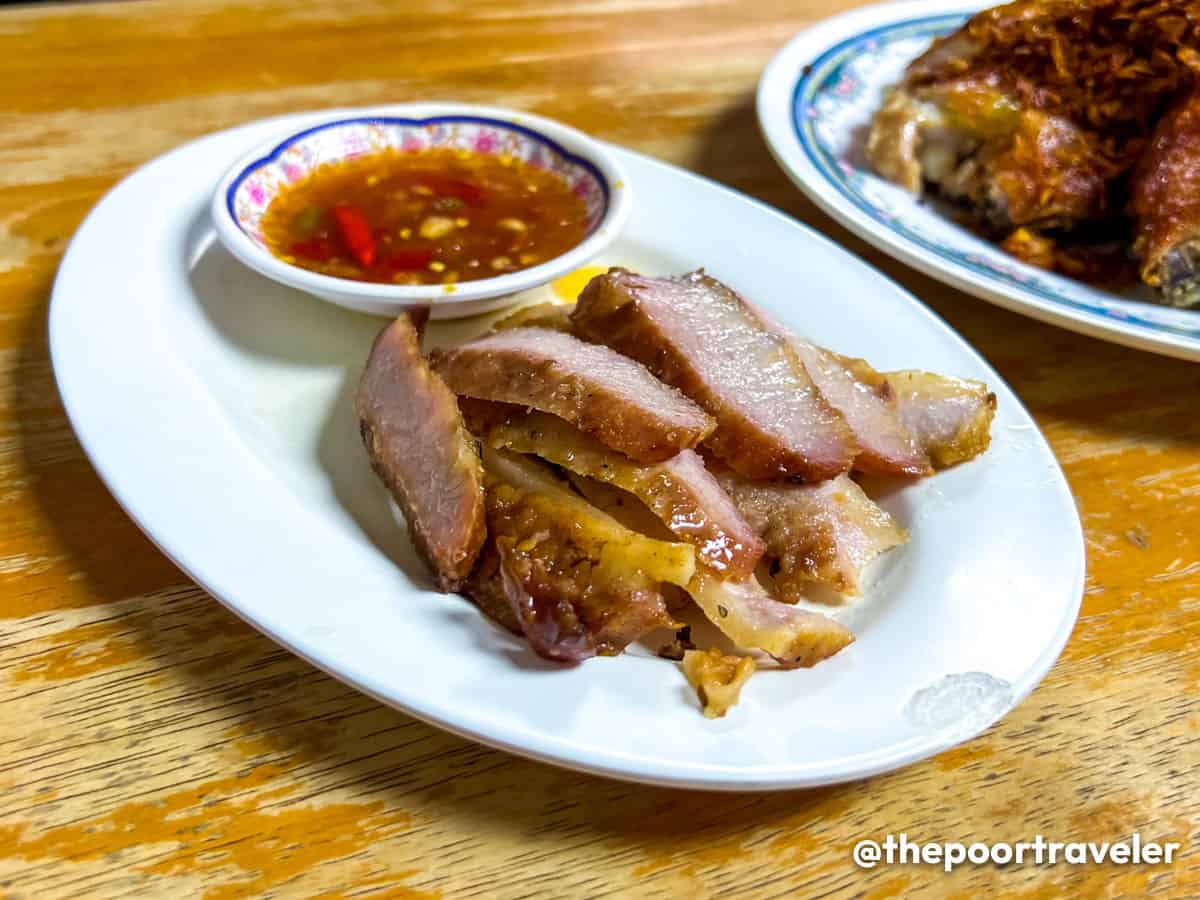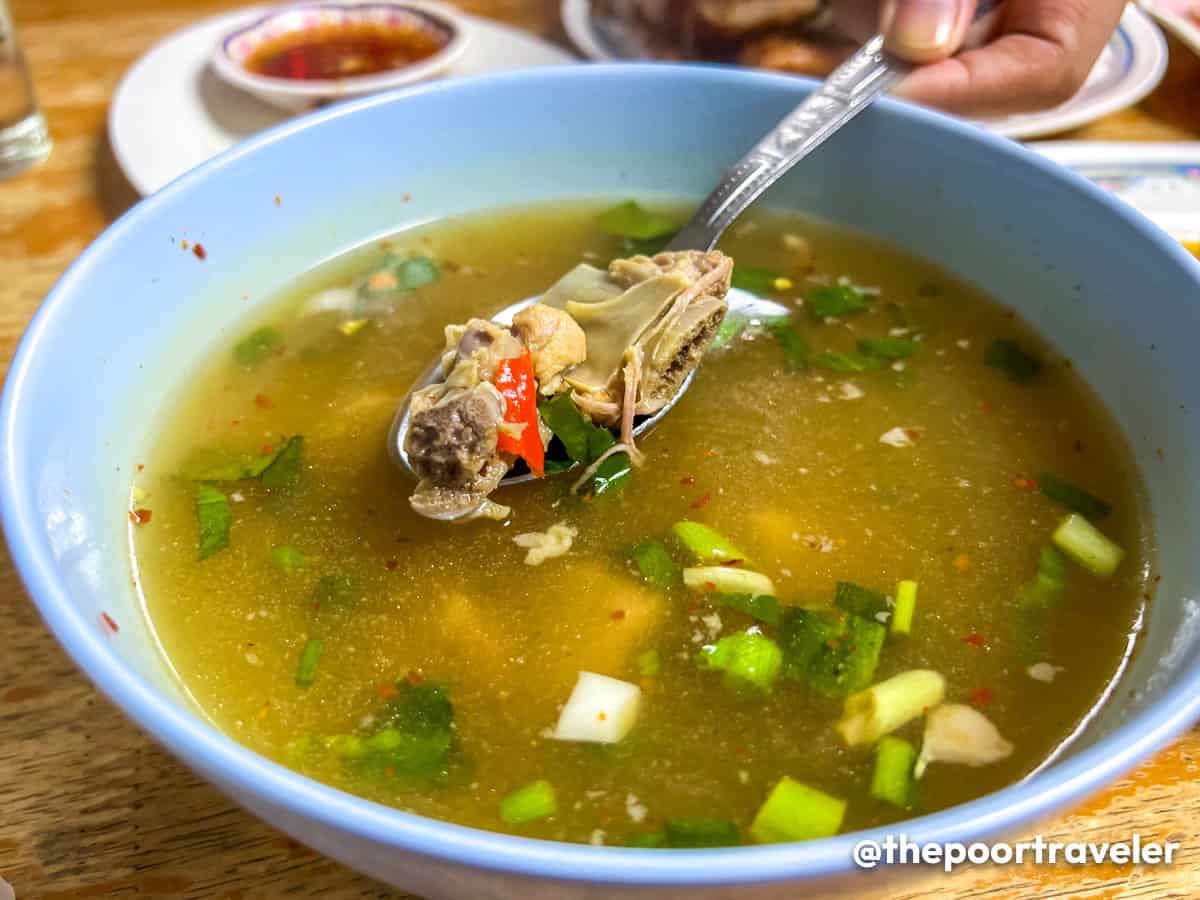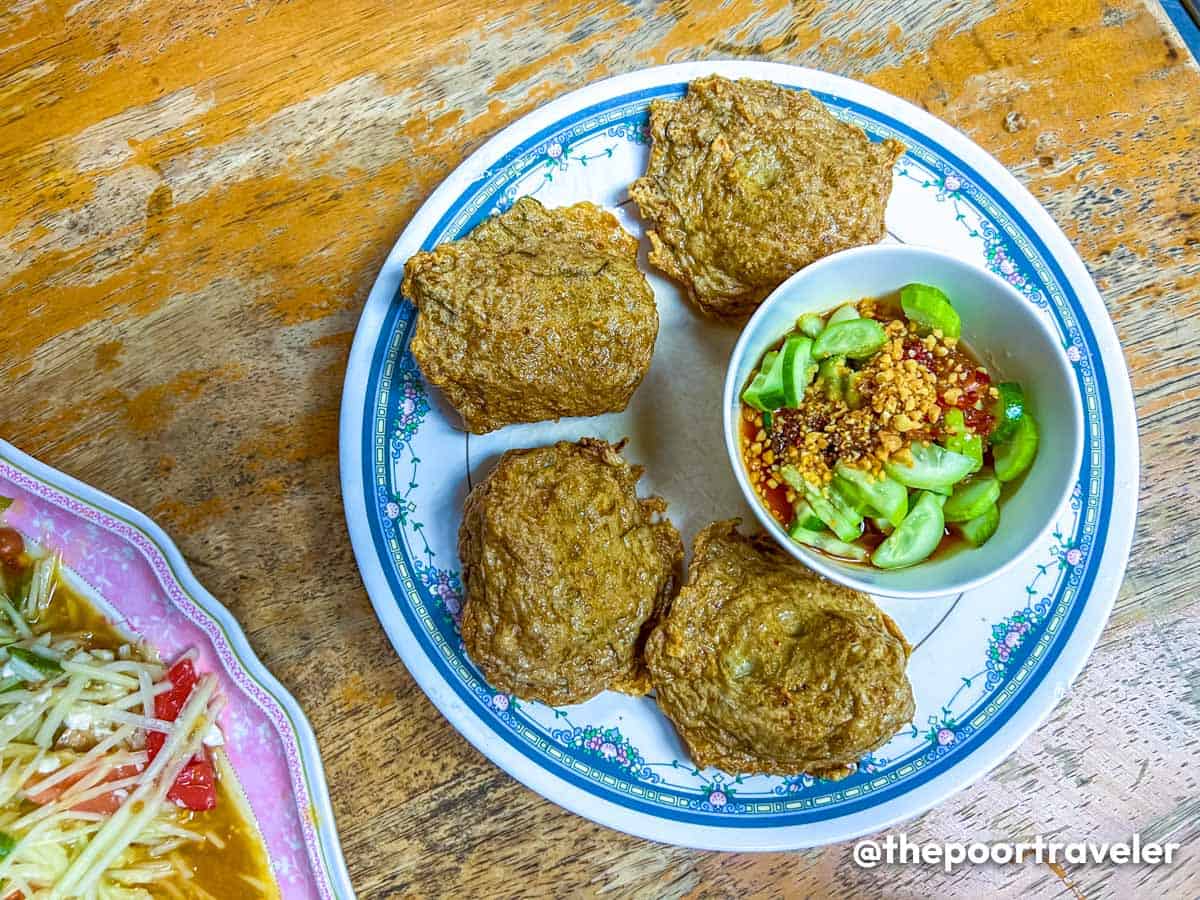 Yep, we ordered a lot because we were really exhausted and famished that day. And nothing disappointed!
SOI POLO FRIED CHICKEN

Specialty: Fried Chicken

Prices
Half: ฿130
Whole: ฿260

Operating Hours: Daily, 7:00 AM-8:30 PM

Location: 137/1-3,9 10 Sanam Khli Alley, Lumphini, Pathum Wan, Bangkok 10330, Thailand

On Google Maps, search: Polo Fried Chicken
---
Address: 587 โครงการ 22 ซอย 4 /2ตลาดนัด จตุจักร 10 Kamphaeng Phet 2 Rd, Chatuchak, Bangkok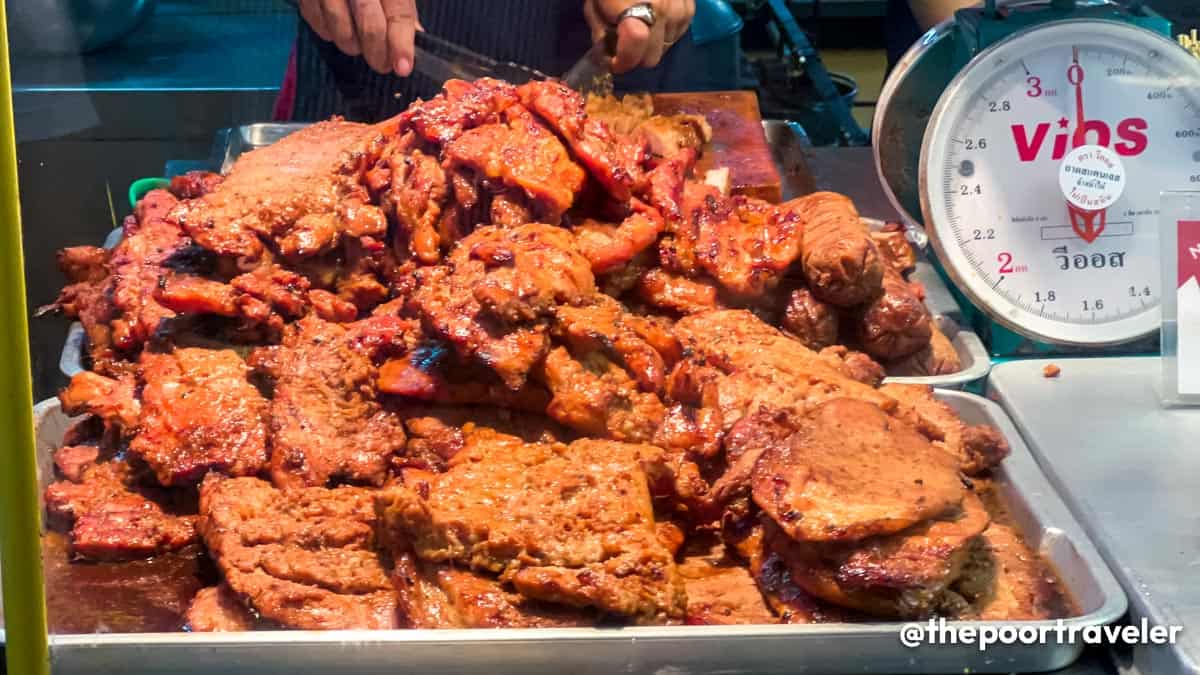 Should you find yourself shopping around in Chatuchak Weekend Market instead, no need to search high and low for a good place to eat. Thailand's largest market complex has an entire food section near Entrance 1, where you could sample some local street fare. But the stall we recommend is a bit deeper inside, in the middle of the garments section — Moo Yang Mae Sumontha. It's quite hard to find as it's hidden amid apparel stores, but just look for Area 22, Soi 14. If you're connected to the internet, look for "Roasted Honey Glazed Pork Mae Sumontha" on Google Maps.
This is a takeout stall, and there is no dine-in area. Yet, loyal patrons endure the long queue just to get their hands on this meaty goodness. The sweet scent alone can make your mouth water and your tummy rumble. What is it famous for exactly? Grilled pork, called moo yang in the vernacular. As you wait in line, you'll notice how the staff restlessly keep on chop, pack, and hand to customers serving after serving of this roasted honey glazed pork. They just place it in a plastic bag with a stick. Behind the staff are photographs of celebrities who have paid a visit to the place.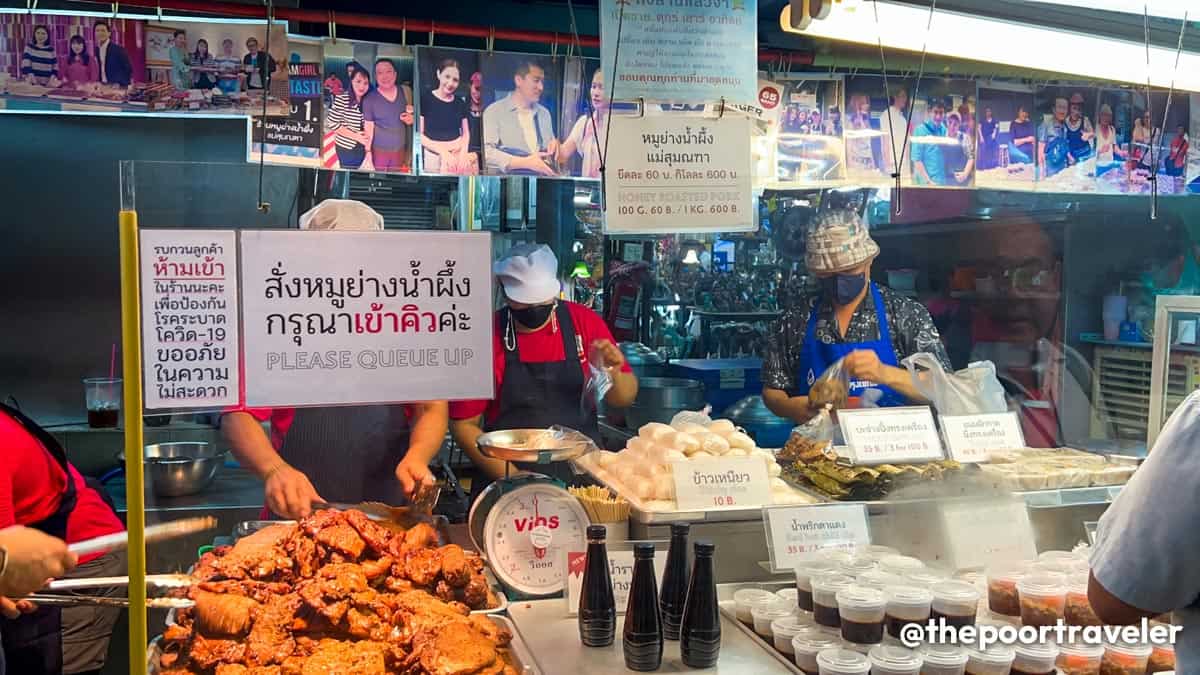 During our visit, each slice of the pork was so tender and juicy. Each bite was an explosion of the sweet and salty marinade that enveloped it evenly. It was also perfectly prepared, with no bitter, overcooked, or charred bits.
It costs ฿60 per 100g. You could consume it as is, or you could also order sticky rice for ฿10 or mantou (bun) for ฿5.
It has no Michelin Guide nod, but we believe it's the best place to grab a bite when shopping at Chatuchak.
MOO YANG MAE SUMONTHA

Specialty: Roasted Honey Glazed Pork

Price: ฿60/100g

Operating Hours: Weekends 8:00 AM – 6:00 PM

Location: 587 โครงการ 22 ซอย 4 /2ตลาดนัด จตุจักร 10 Kamphaeng Phet 2 Rd, Chatuchak, Bangkok

On Google Maps, search: Roasted Honey Glazed Pork Mae Sumontha
---
Specialty: Fried noodles with chicken
Address: 419 Luang Rd, Wat Thepsirin, Pom Prap Sattru Phai, Bangkok 10100, Thailand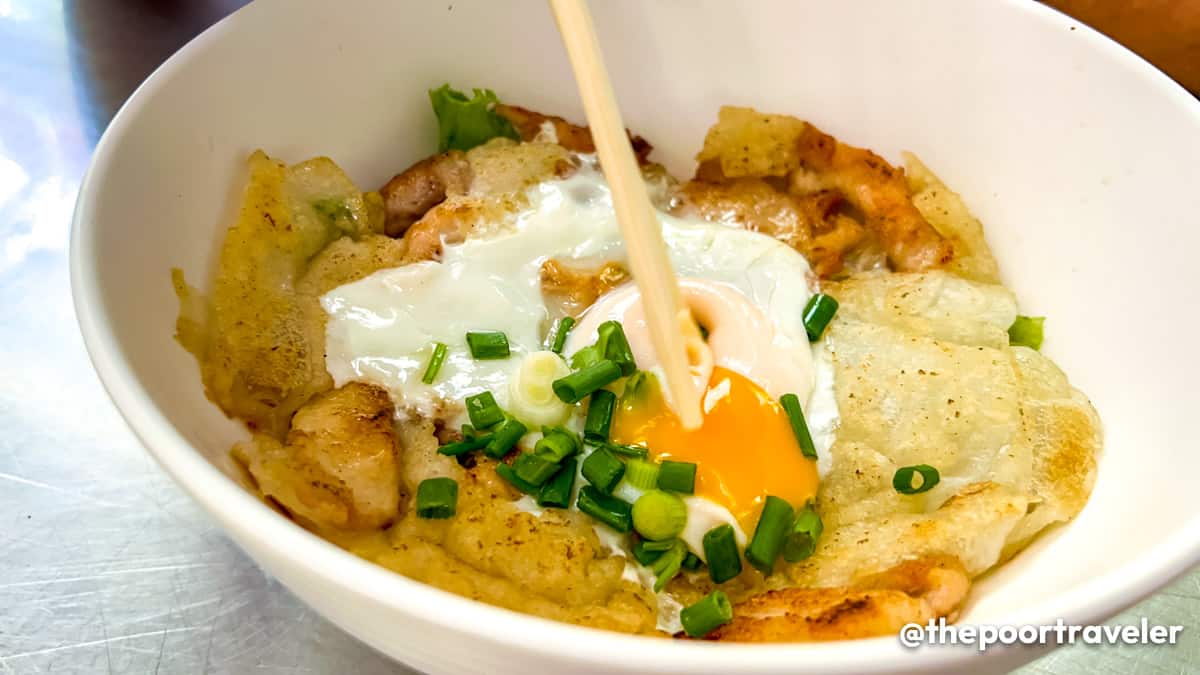 Many of the popular local dishes in Thailand have influences from other countries. And one of the more well-known street foods here that has deep Chinese imprints is the guay tiew kua gai (kuay teow kua gai), flat rice noodles fried with chicken. How to prepare it was quite simple. First, the noodles are fried in a wok at high heat, giving it some smokiness. Then, the chicken and the egg are added. Most kitchens take the liberty when it comes to additional ingredients, but its core, that's the very basic recipe for this dish.
If this dish is up your alley, head over to Ann Guay Tiew Kua Gai, which has received a Michelin Bib Gourmand award year after year. This small, unassuming eatery sticks to the "simplicity is strength" mantra. It uses very few ingredients. When our bowl arrived, at first glance, I could mistake it for a bowl of fried chicken chop topped with a freshly cracked egg. Because it was fried at high temperatures without much sauces, it could have been more on the dry side, but the fresh egg made it creamy and smooth.
But what I liked best about this place was that it was so budget-friendly. The simple fried noodles with chicken and runny egg costs ฿50, but another bestselling version is the one with chicken, ham, squid, and shrimps, at ฿100 baht per serving.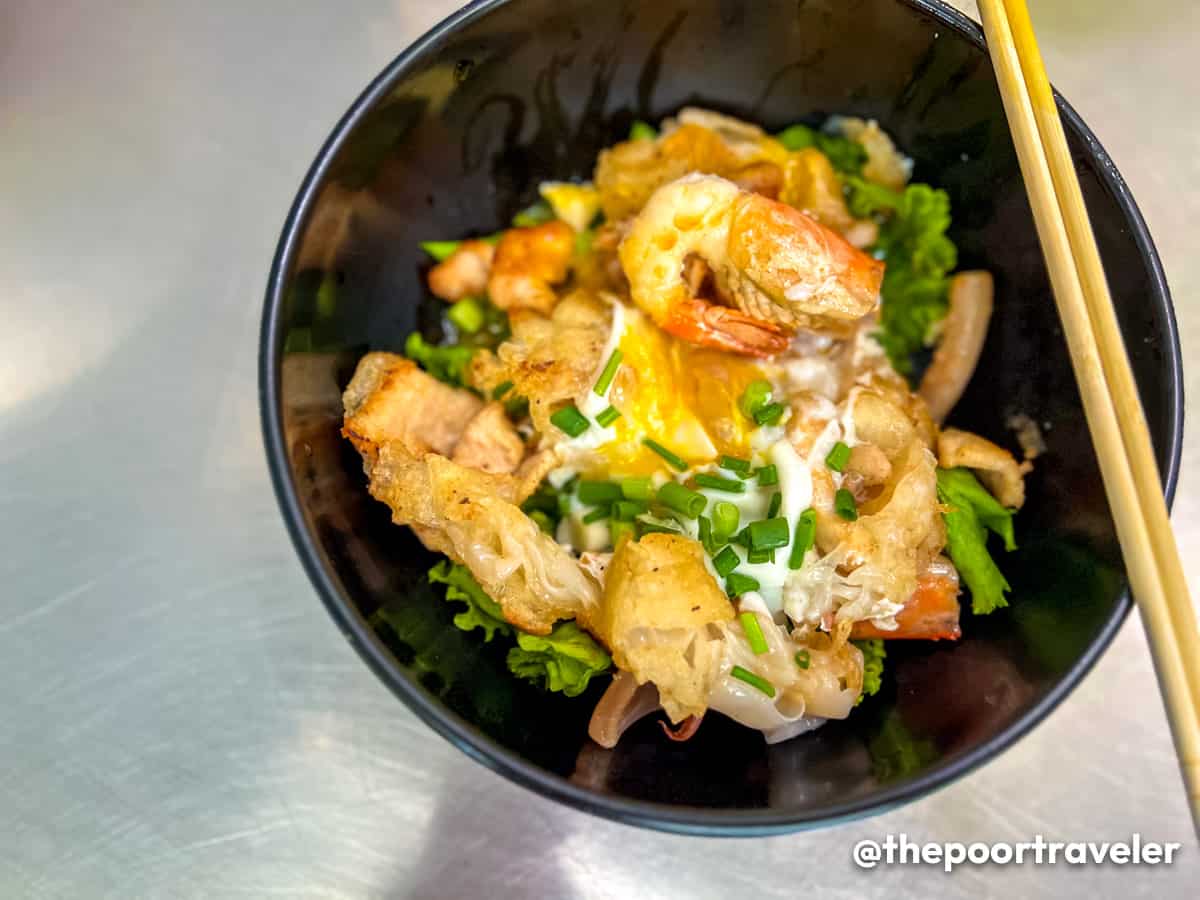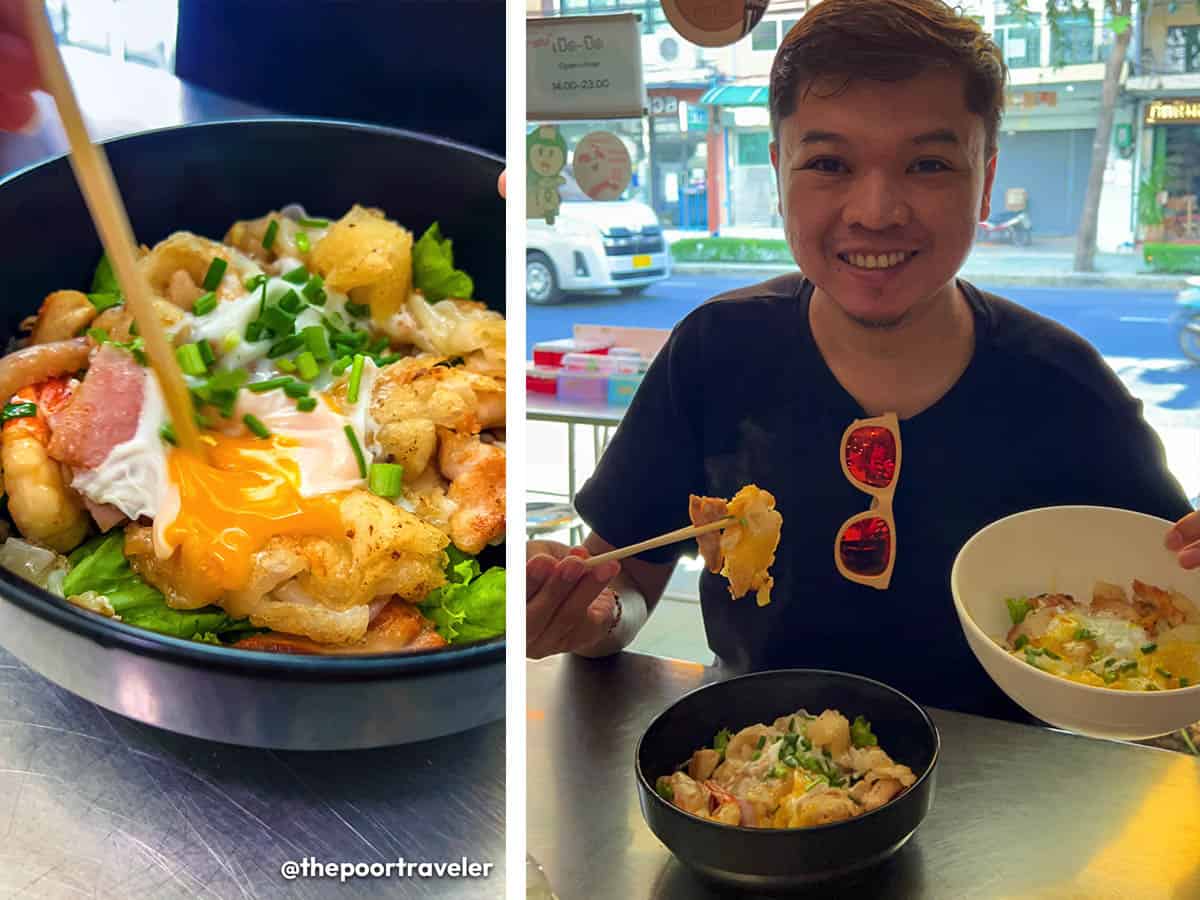 To be honest, we enjoyed the latter recipe better because the seafood flavors complemented the chicken and egg well. And each bit from the ocean was so fresh, we could tell.
We also had the chicken noodle soup, which was a steal at only ฿50. The taste was very clean, homey, and comforting.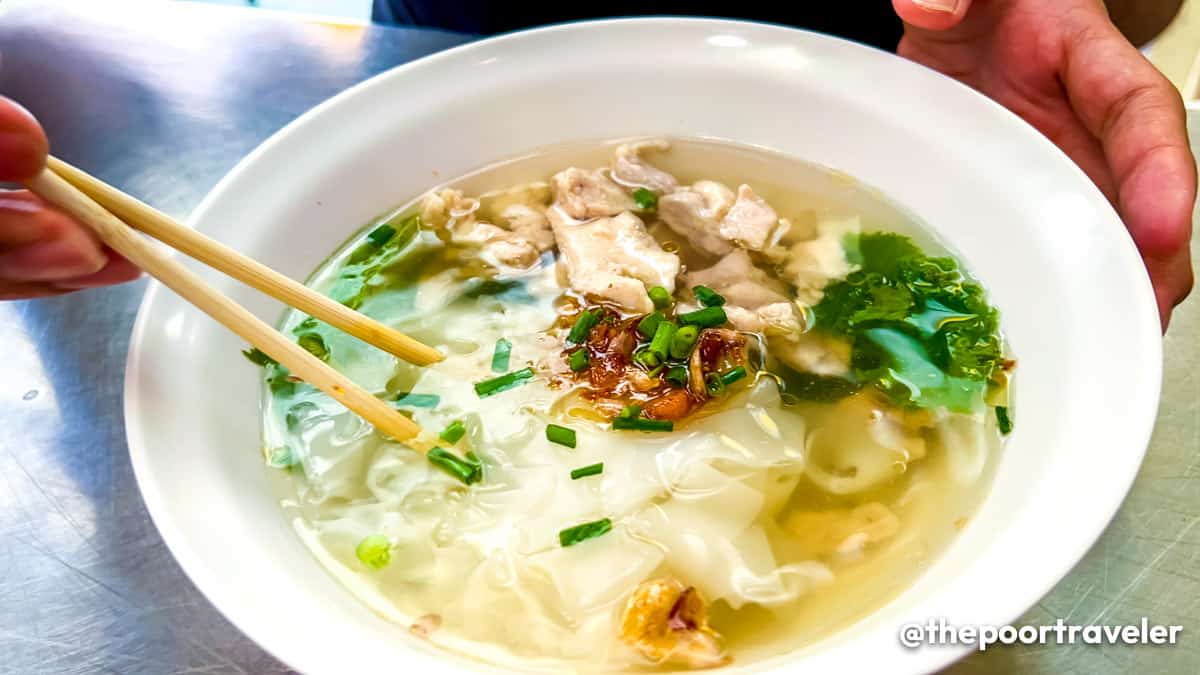 All the dishes we tried very light. Even though any of them could really pass as a full meal — each has carbs and protein — they didn't feel heavy in the belly.
ANN GUAY TIEW KUA GAI

Prices
Fried noodles with chicken and egg: ฿50
Fried noodles with chicken, egg, ham, and seafood: ฿100

Operating hours: Daily, 2:00 PM-11:00 PM

Location: 419 Luang Rd, Wat Thepsirin, Pom Prap Sattru Phai, Bangkok 10100, Thailand

On Google Maps, search: Ann Guay Tiew Kua Gai
---
Address: 562 566 Luang Rd, Pom Prap, Pom Prap Sattru Phai, Bangkok 10100, Thailand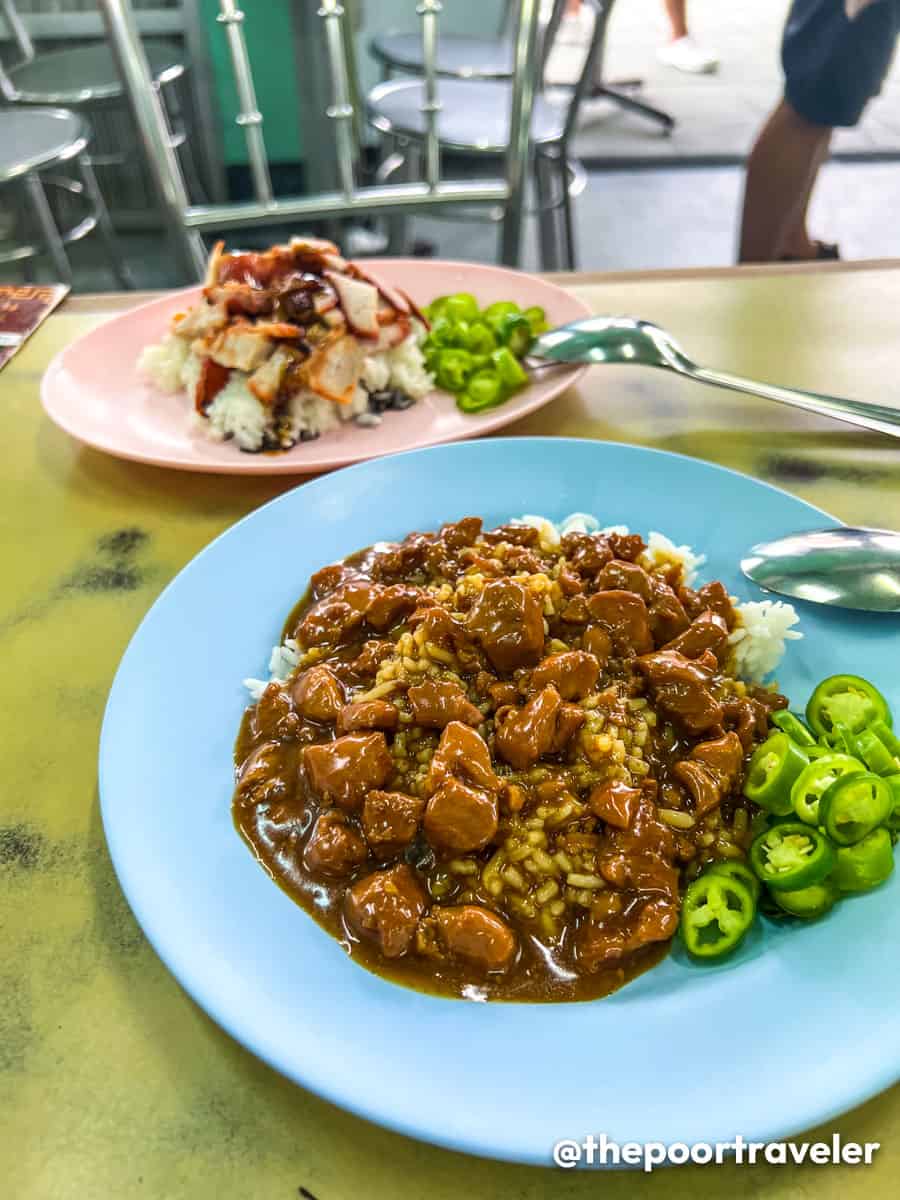 Just across Ann Guay Tiew Kua Gai stands another legendary food spot that has been serving the same dish for over 100 years! This is Poon Lert Room, famous for its khao na gai (chicken gravy rice), created by poaching chicken thighs, chopped into small chunks, and drowned in a thick, sticky sauce that is poured over a mound of rice.
This recipe remains unchanged since over a century ago when the current owner's great grandfather was still peddling it in the streets. Now, of course, it has a permanent home near the Phlapphla Chai intersection in Yaowarat area. As with many other establishments on this list, expect to see a queue in front of the store. Not surprising, given that it was also bestowed in the past with a Bib Gourmand honor by the Michelin Guide for a couple of years.
It was raining when we visited, which is probably why there weren't that many customers. We ordered the signature chicken gravy rice (฿80). It looked unreal! One glance and I was salivating. The gravy glistened and covered the rice all over. It appeared very simple, too. Save for the chili slices on the side, there weren't any other solid ingredient other than the chicken. But it tasted very profound. After my first spoonful, my tastebuds were greeted with something that seemed both familiar and strange. Familiar because it reminded me of the Philippines' asado or menudo, but strange because most profiles were very subdued — it was neither salty nor sweet — leaving only the deep flavor of the chicken. But the chilis elevated it, adding another layer to the dish. I kind of liked it (but my teammate Pycan, not so much).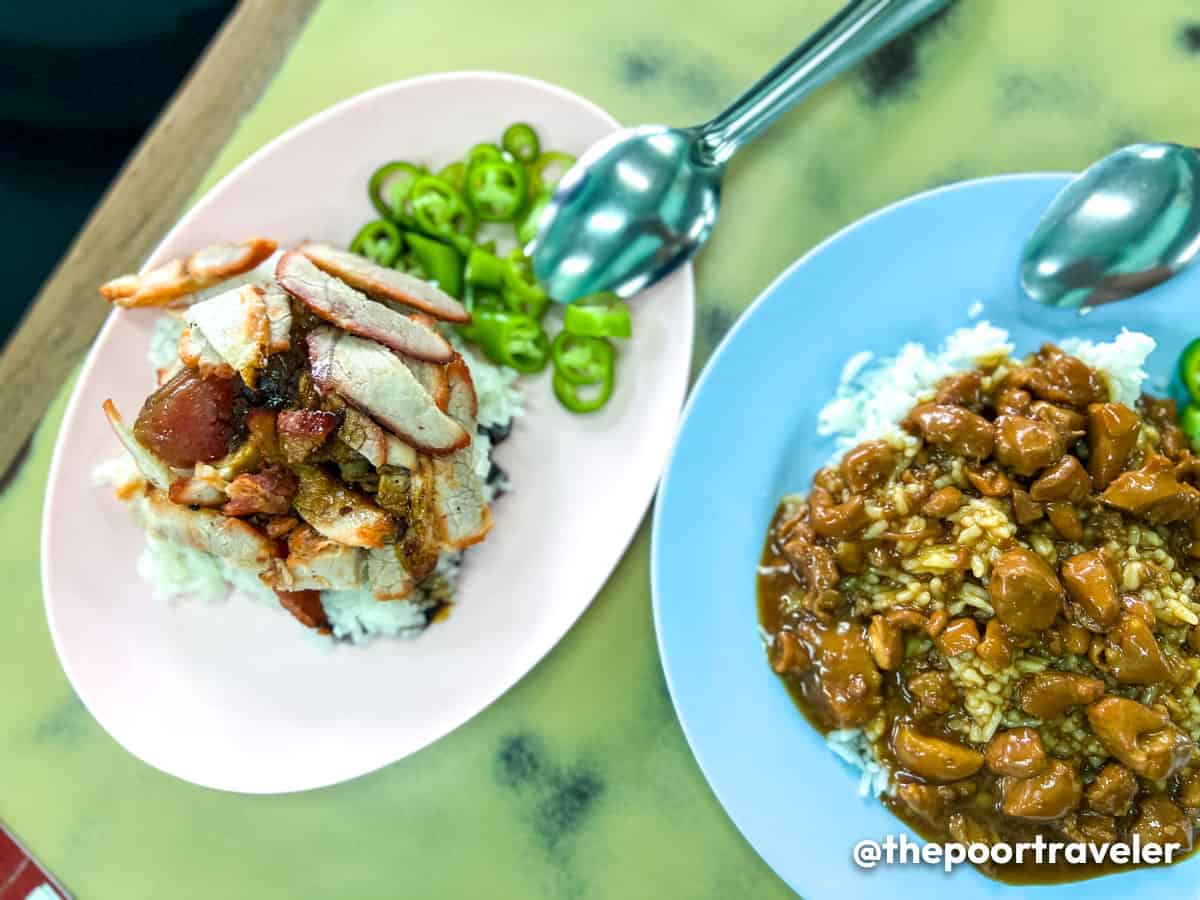 We also ordered BBQ pork with sticky rice (฿80), which was similar to the typical char siu meals at Chinese eateries but drizzled with a rich and intensely sweet soy-based sauce. There were also sausage slices in the mix, which was a nice surprise!
Oh, both dishes are also available in springy noodle version!
POON LERT ROOM

Specialty: khao na gai

Prices
Chicken gravy rice: ฿80
BBQ pork with sticky rice: ฿80

Operating hours: Tuesday-Sunday, 9:00 AM-6:00 PM
Closed: Mondays

Address: 562 566 Luang Rd, Pom Prap, Pom Prap Sattru Phai, Bangkok 10100, Thailand

On Google Maps, search: Poon Lert Room
---
Of course, this list won't be complete without mentioning the good old curbside cuisine. One thing I truly love about Bangkok is its endless arrays of stalls and carts, selling all sorts of local dishes, snacks, and desserts. Many of them are exceptional, too! From the grilled skewers to pad thai to mango sticky rice to milo dinosaur — these faves stop me at my tracks and make me whip out my wallet for a quick bite or drink. And they're pretty affordable, too!
Often, you don't need to search far and wide. Just scour the area surrounding your hotel and you'll likely find something good. On our recent trip, just in front of our hostel in the Khao San area stood a makeshift eatery whipping out bowl after bowl of delicious noodle soup. The egg noodle soup with roasted pork and wonton (฿50) was fab, but its giant bowl of pork ribs soup (฿70) was immaculate. Hellishly spicy, but still immaculate.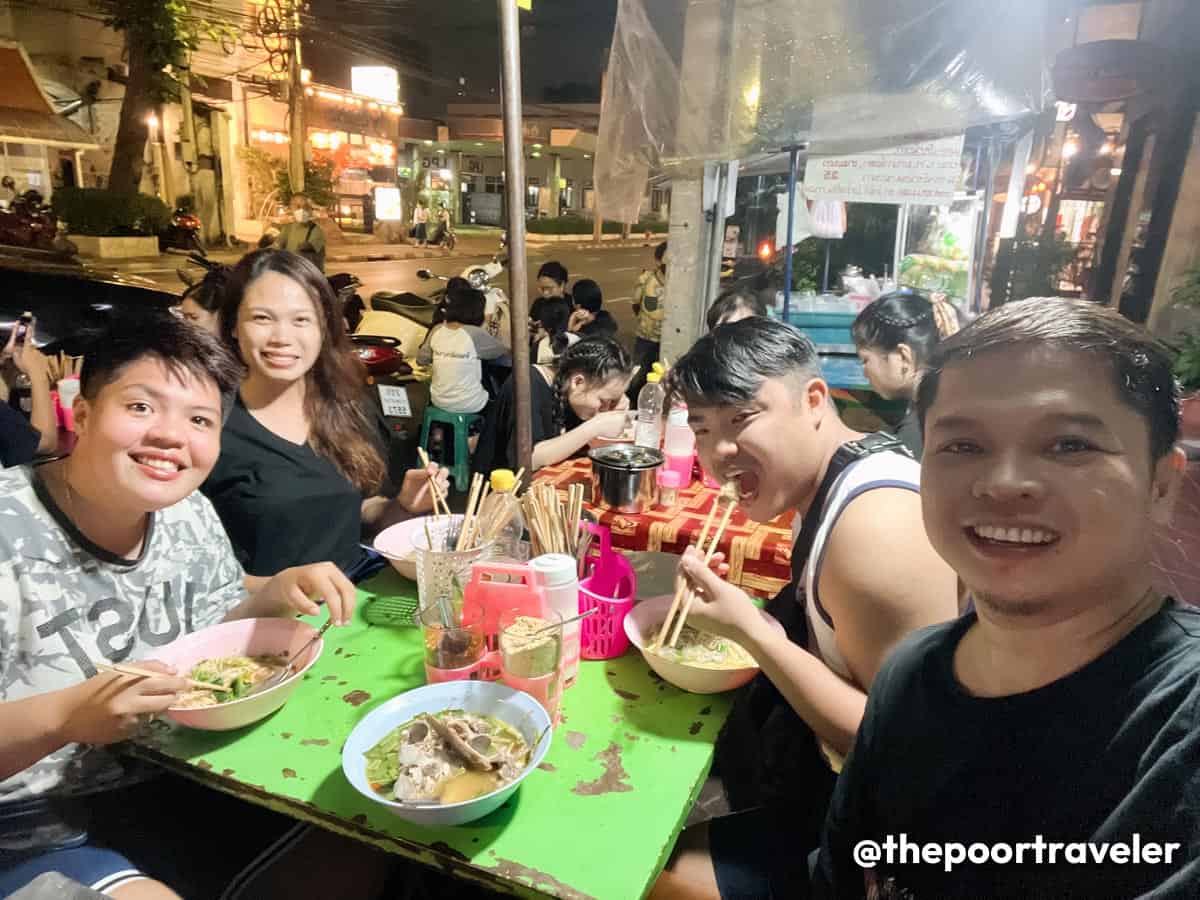 ---
[ad_2]

Source link