[ad_1]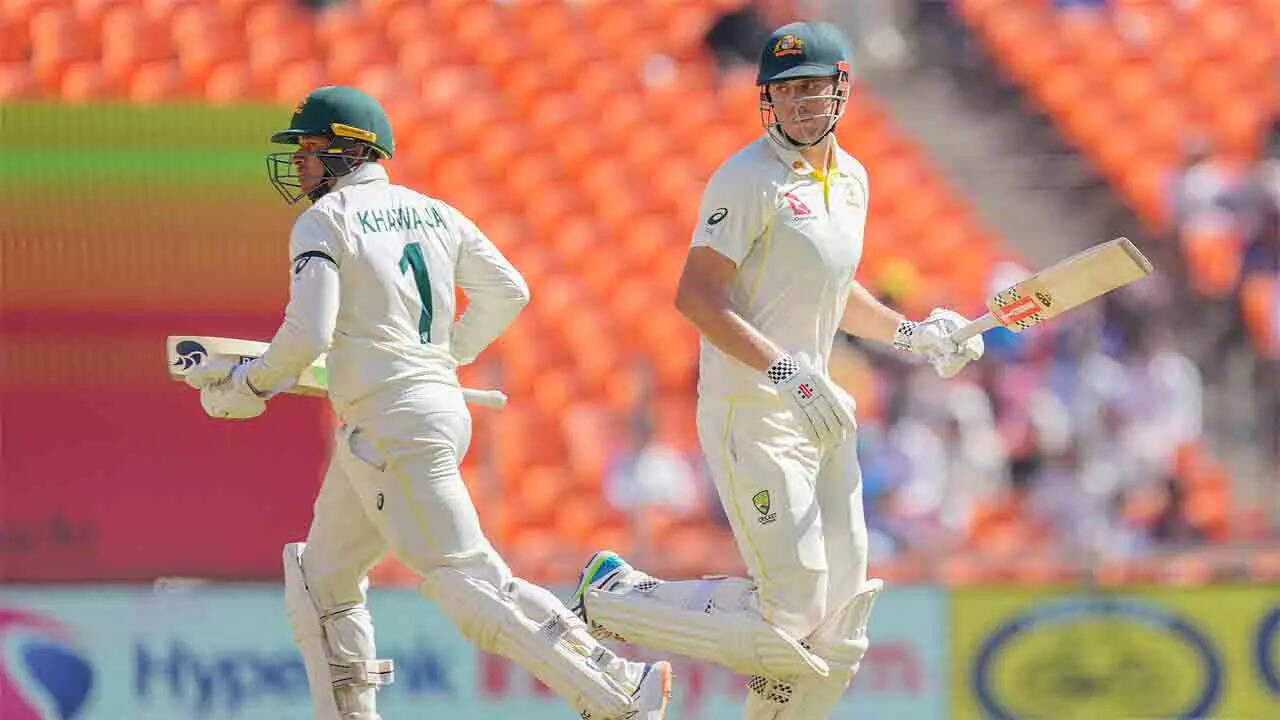 NEW DELHI:
Rohit Sharma
's captaincy was tested to the hilt on an unresponsive surface as Australia piled on 480 runs thanks to Usman Khawaja (180) and Cameron Green (114) on the second day of the 4th Test in Ahmedabad on Friday.
Rohit (17*) and Shubman Gill (18*) added 36 runs in 10 overs to take India to stumps after being hardly troubled on a track that hasn't deteriorated one bit and has shown no signs of wear and tear.
AS IT HAPPENED
The most awkward time to start an innings is during the last 10 overs of the day but Gill lofted Nathan Lyon for a six down the ground to signal his attacking intent in that short span of time.
Australia still hold a massive advantage as their three spinners are likely to get more purchase than their Indian counterparts going into the third day.
Khawaja's marathon knock of 180 lasted 10 hours and 11 minutes and he faced 422 balls, which is effectively 70.2 overs of the total 167.2 overs faced by the Australian team.
Green's maiden Test hundred, an eminently attractive 114, laced with 18 boundaries, was a good counter-punching effort on a track which was easy to bat on and which gives value for shots playing within the 'V'.
Their 208-run stand that lasted 59.4 overs will certainly add a lot of confidence in the Australian dressing room, after failing to cross 275 even once in the five completed innings during the first three games.
The plight of the Indian attack was evident when Todd Murphy (41 off 65 balls) and Nathan Lyon (34 off 96 balls) added 70 runs for the ninth wicket in just 19.2 overs in a stand where a few audacious shots were played in between a couple of streaky ones.
When a bowling unit concedes a total of 11 boundaries off batter Nos. 9 and 10, the going really gets tough.
No credit will be enough for Ashwin (47.2-15-91-6), who gave his all manfully and got his 32nd five-wicket haul in Test cricket and is now only 27 wickets short of becoming second Indian after Anil Kumble to complete a coveted 500 wickets.
By the time he reached the milestone, Australia had crossed the 475-run mark and are in a position to dictate the flow of this game.
But the day certainly belonged to Green, who completed a well-deserved maiden hundred.
The giant 6-feet-8-inch all-rounder, who missed the first two Tests due to a finger surgery, let Khawaja play his own game during their double century stand.
After back-to-back barren sessions, it was Ashwin, who got three quick wickets for India.
Having already qualified for the WTC finals, Australia looked like trying to play 'party-poopers' for India as they never forced the scoring rate during the course of the two days.
The Indian bowling unit struggled big time on a good batting track as the Australians dictated terms both on attacking as well as defensive fronts.
Not for once the Australian batters looked in any kind of discomfort on a track that has remained firm and hasn't shown any distinct signs of wear and tear.
Having leaked a lot of runs with the second new ball on the first evening, India captain Rohit Sharma couldn't afford setting an attacking field as he had to check the flow of runs.
Hence, a deep point, deep square leg and deep fine leg were employed to stop the boundary count. But with a left-right pair at the crease, the bowlers had to alter the length as the two batters kept the scoreboard ticking.
Khawaja, however, was in no tearing hurry even though he hit 21 boundaries with at least a dozen coming in the leg-side with his favourite whip shot or on-drive.
In the morning, as Khawaja continued his grind, Green blended attack with defence during a session that yielded 92 runs. As someone who loves playing the drive, save a couple of fours, most were hit on the off-side in the area between extra-cover and mid-off.
India pacers had a poor first innings with 40 boundaries being conceded by Umesh Yadav (19) and Mohammed Shami (21). Some were inside and outside edges but they never consistently hit right lengths while conceding more than 100 runs in 25 and 31 overs respectively.
(With PTI inputs)


[ad_2]

Source link