[ad_1]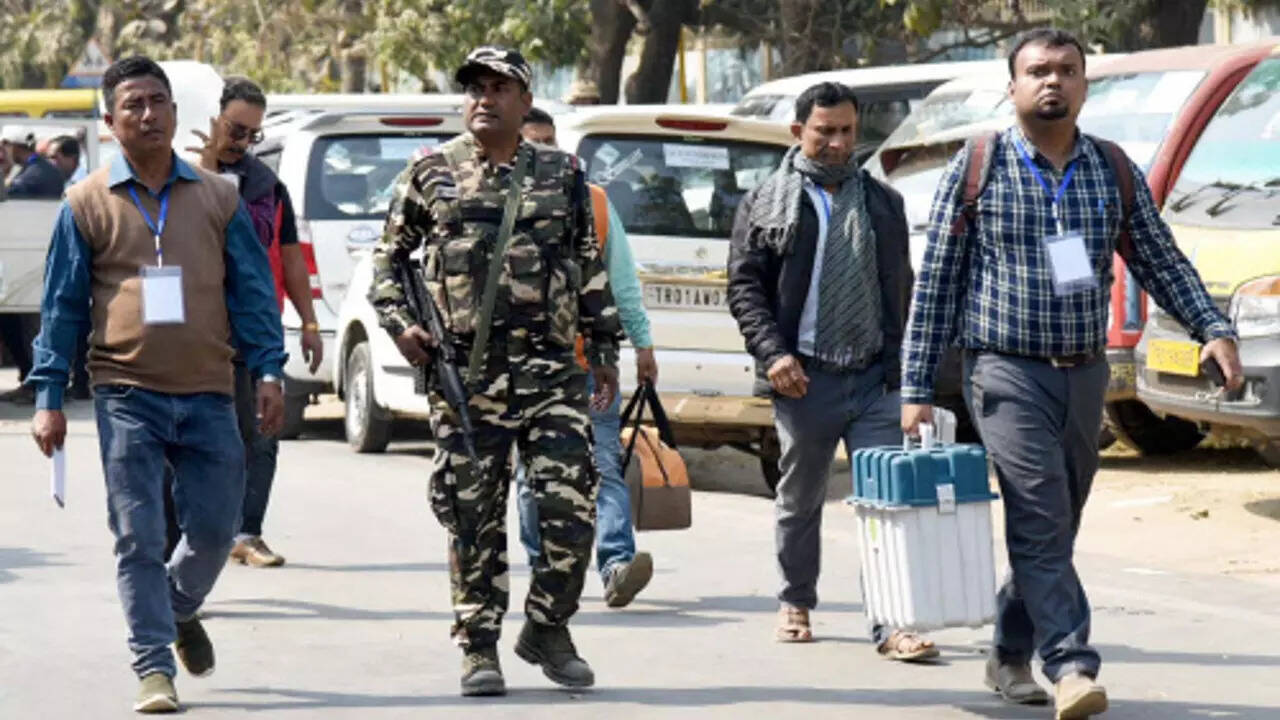 NEW DELHI: Tripura is all set to witness a
multi-cornered contest
in 60 seats between the BJP-IPFT combine, CPM-Congress alliance and the Tipra Motha on Thursday. 259 candidates are going to contest the assembly polls.
Votes will be counted on March 2.
Tripura elections: Full coverage
31,000 polling personnel
The voting will be held under tight security between 7 am and 4 pm at 3,337 polling stations, out of which 1,100 were identified as sensitive and 28 as critical, Chief Electoral Officer (CEO) Gitte Kirankumar Dinakarro said told PTI. "As many as 31,000 polling personnel and 25,000 security personnel of central forces are ready to conduct the election in a free, fair and peaceful manner. Besides, 31,000 employees of the state armed police and the state police will be deployed to maintain law and order," the CEO said.
The run-up to the 2023 elections
The BJP in a surprise mandate ended the Left's 25-year rule in 2018 and went on to form the government in Tripura, picking Biplab Deb as the chief minister. But the party replaced Deb with Manik Saha in May last year. It has launched a strong campaign, and hopes to ride its plank of development with 'double-engine' government, at Centre and in the state.
Although the Left could bag just 16 of the 60 seats last time, was not very far behind in vote share. The CPM alone bagged 42.22 per cent votes, while BJP managed 43.59 per cent. The assembly elections are shaping up to be a fight between these two blocs, with other parties and alliances moved to the fringes. However pre- or post-poll understandings can upend many a calculation in the event of a close finish or unclear mandate.
28.13 lakh voters
Altogether 28.13 lakh voters including 13.53 lakh women will decide the fate of 259 aspirants of whom 20 are women. The international and inter-state boundaries have also been sealed to prevent trouble mongers from entering the state.
BJP contesting in 55 seats, Congress 13
The BJP is contesting in 55 seats, its ally IPFT has fielded candidates in six constituencies, while there will be a friendly fight in one seat. The CPM is contesting in 47 seats while its alliance partner Congress is fighting in 13 constituencies. The Tipra Motha has candidates in 42 seats. The Trinamool Congress has fielded nominees in 28 constituencies while there are 58 independent aspirants.
The elections to this state's assembly are considered important as political pundits see the possibility of a tough contest between the ruling party and the opposition, the first in a year of polls to elect state governments.
(With agency inputs)


[ad_2]

Source link