[ad_1]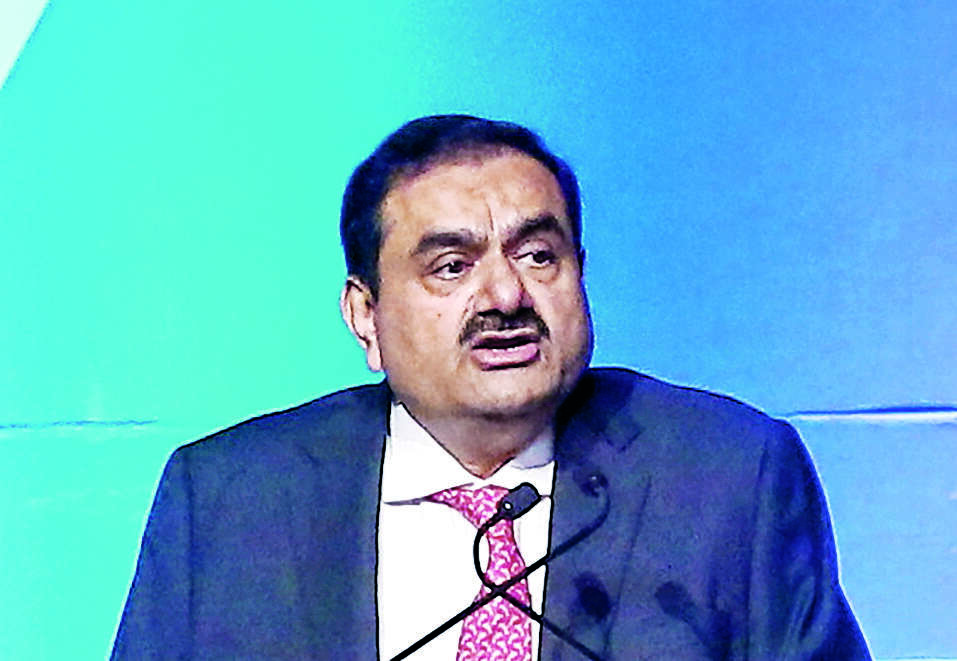 Financing arrangements across the
Adani Group conglomerate
have sent a fresh chill through ESG markets as investors wake up to a new risk.
Norway's largest pension fund, KLPrecently dumped its entire holding of shares in Adani Green Energy Ltd., the renewables part of the empire, amid concerns that it might inadvertently have helped
finance some of the world's most polluting activities
via the stake. A Feb. 10 public filing has since made clear that Adani is using stock from its Green companies as collateral in a credit facility that's helping to finance the Carmichael coal mine in Australia, via Adani Enterprises Ltd.
KLP has blacklisted coal from its portfolio, so any indirect financing of the Carmichael project would represent a "breach of our commitments," Kiran Aziz, KLP's head of responsible investing, said in an interview.
Since short-seller Hindenburg Research published its critical report on Jan. 24, investors have responded to its allegations of fraud and market manipulation by selling Adani shares. But for investors with environmental, social and governance mandates, there's an added layer of pain as they realize their green dollars were indirectly supporting the dirtiest of fossil fuels.
"Investments in other parts of the Adani Group are leaking into the funding of Carmichael," said Ulf Erlandssonchief executive of Anthropocene Fixed Income Institute, which has been tracking the Adani Group since mid-2020. "Investors who have restrictions on funding greenfield thermal coal mining should revisit potential exposures across the whole of Adani Group."
More than 500 funds registered in the European Union as "promoting" ESG goals hold Adani stocks, either directly or indirectly, according to data compiled by
Bloomberg
.
An Adani spokesperson didn't respond to a request for comment. The conglomerate has repeatedly denied the allegations in the Hindenburg report and threatened legal action.
Erlandsson at AFII said an equity investor pledging stock as collateral doesn't necessarily contaminate other shareholders. But the "high concentration of stock ownership and other interrelationships" in the Adani conglomerate represent an extra layer of risk, he said. A higher price on Adani Green's stock increases the value of the collateral, lowering the credit risk for SBI's financing of the coal project, which then "hypothetically, materializes in the bank being able to offer a lower interest rate for Carmichael," he said.
Adani Green's stock price has fallen almost 70% this year, while its debt has also slumped. The company said on Feb. 7 it had won the backing of investors after reporting third-quarter net income that more than doubled from a year earlier. Adani Green CEO Vneet S. Jaain said the results proved the company has a "robust capital management program with leverage well aligned with the business model."
On Feb 16, it emerged that the conglomerate is in talks with potential investors to raise as much as $1.5 billion through note sales by Adani Green, Adani Transmission Ltd. and Adani Ports & Special Economic Zone Ltd., according to the people familiar with the process.
The Hindenburg report found that "Adani Group companies are intricately and distinctly linked and dependent upon one another. None of the listed entities are isolated from the performance, or failure, of the other group companies."
The Carmichael coal mine, located inland from Australia's iconic Great Barrier Reef in Queensland, has become a lightning rod for climate activists over the environmental destruction the facility represents. Pushback has also come from banks, insurers and investors, amid alarm at the mine's carbon footprint.
MSCI Inc. gives Adani Green a rating of A, and the entity is included in several of its ESG and Climate indexes. S&P Global Inc. said this month it was removing Adani Enterprises from its Dow Jones Sustainability Indexes. Sustainalytics has downgraded the ESG scores of several Adani companies. MSCI said it will start reviewing holdings in ESG indexes more frequently, in response to questions about its approach.
Norway's KLP, which manages around 765 billion Norwegian kroner ($75 billion), divested its position in Adani Green on Jan. 30, adding to five other Adani companies it had previously excluded from its investment universe.
"Adani's corporate structure created an unacceptably high risk that 'clean' investment could be siphoned off towards coal mining," Aziz said.
The largest external holder of Adani Green is TotalEnergies SE, which acquired a 20% stake in 2021. The French energy giant confirmed its withdrawal from coal production and marketing in 2015. CEO Patrick Pouyanne said earlier this month that Adani Green and Adani Total Gas Ltd., in which it has also invested, are "healthy" companies.
"The shares TotalEnergies owns in AGEL are not pledged nor used as collateral for any financing or any other project," a company spokesperson said. "TotalEnergies has no involvement in the use of the shares held by other shareholders of AGEL for collateral or other purposes."


[ad_2]

Source link