[ad_1]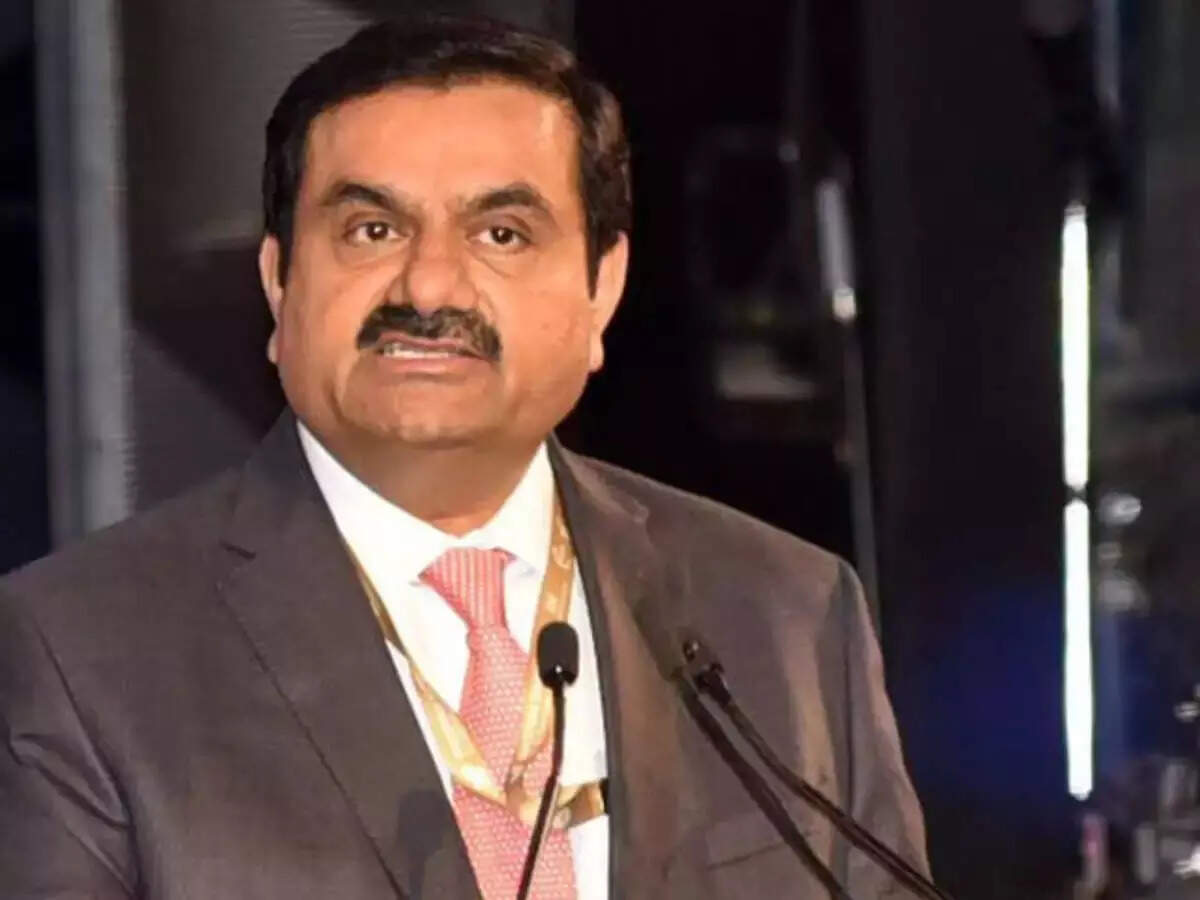 NEW DELHI: Shares of Adani Enterprises finally broke its losing streak to end nearly two percent higher on Thursday after the company reported a consolidated net profit of Rs 820 crore in the quarter ended December, improving from a loss of Rs 11.63 crore a year ago. Revenue from operations for the flagship firm of the
Adani Group
rose 42 per cent to Rs 26,612.23 crore.
Ebitda (earnings before interest, taxes, depreciation, and amortization) more-than-doubled (up 101 per cent) to Rs 1,968 crore from Rs 977 crore in the year-ago quarter.
The company stock jumped 10 per cent to an intra-day high of Rs 1,889, bouncing 17 per cent from the day's low on the BSE on Tuesday after the company announced its October-December quarter earnings. The company finally ended the day 1.8 percent higher at Rs 1,750 though the stock had hit an intra-day low of Rs 1,611.30 after credit rating firm Moody's revised the rating outlook on four companies of the conglomerate to 'negative' from 'stable'.
"These rating actions follow the significant and rapid decline in the market equity values of the Adani Group companies following the recent release of a report from a short-seller highlighting governance concerns in the Group," Moody's said.
Moody's decision to downgrade some of the group companies comes after financial index provider MSCI cut the free-float status of Adani Enterprises, Adani Total Gas, Adani Transmission, and ACC.
Earlier, S&P Global Ratings had also slashed its outlook on Adani Group to negative amid concerns over potential governance risks and funding challenges.
MSCI's decision to reduce the weights of four of the group's companies in its standard index had triggered a sell-off in the stocks last week, while reports of the group toning down its growth targets to 15-20% from 40% has also dampened sentiment among investors.
Adani group stocks (including Ambuja, ACC and NDTV) have lost around Rs 10.2 lakh crore or about 53 per cent of their combined market cap since January 24.
Adani Gas, Adani Green Energy, Adani Transmission, Adani Power and NDTC ended the day 5 percent lower. Ambuja Cements closed 1.96 percent lower while ACC closed 0.41 percent higher .
Adani Enterprises, Adani Transmission, Adani Total Gas and ACC could see outflows of Rs 3,450 crore by the end of February when the MSCI index adjustments come into effect. Adani Green, Adani Transmission and Adani Total Gas have lost 77%, 73% and 70%, respectively, since January 24 while NDTV, Adani Power, Adani Enterprises and Adani Wilmar have plunged between 53% and 65%, respectively, during the same period.
"The market cap of Adani group companies continued to fall following the group's revision of its revenue growth target to 15-20% for the next fiscal year, which is a significant drop from the earlier target of 40%," Deepak Jasani, Head of Retail Research at HDFC Securities, said.
With shares in such a free fall, what should investors do?
Richa Agarwal Editor and Research Analyst at EquityMaster does not recommend buying the dip in Adani group stocks because the company doesn't have a good reputation when it comes to corporate governance.
"While markets may have neglected that at times, I would not. I may convert if there is a drastic change at the promoter and management level. But that seems unlikely for now. Second, despite the correction, the valuations of Adani group stocks still don't make any sense to me, given the fundamentals they have. Most of these stocks are still riding the narratives in my view, while the business remains overleveraged," said Agarwal.
According to Arihant Capital Market, Adani Enterprises is witnessing a pullback rally in a downtrend and is likely to attract selling pressure. The brokerage has advised investors to hold the short position with a stop loss of Rs 2,250 and a target of Rs 1,400-1,000 levels over the next couple of weeks.
Several equity schemes of domestic mutual funds have also shuffled their Adani stock holdings ever since the sell off began on January 25 triggered by the Hindenburg Research report.
Data analysed by the Economic Times shows that Aditya Birla Sun Life, Axis, HDFC, SBI, and Tata MF bought ACC while DSP, HSBC, Nippon, and JM Mutual Fund sold the stock. HSBC and JM Mutual Fund completely exited the stock. No fresh purchases were made for Adani Enterprises. Equity schemes of DSP, Kotak, PGIM, SBI MF cut their stakes.
Large fund houses, however, lapped up Adani Ports as the stock dipped 19.5% in the last week of January. Aditya Birla, DSP, HDFC, Kotak, Mirae, SBI, Sundaram, and Tata bought on the dip while Axis, IDFC, and Union MF trimmed their positions.
NJ India Mutual Fund sold its holdings in both Adani Green and Adani Transmission while investment houses were divided over Ambuja Cements. Some sold the stock, while others bought the 19.6% dip.
Some experts believe that Adani stocks should not be bought right now, while some think that certain group companies are worth buying on the dip.
Valuation still too high?
" If the Price to Earnings ratio of different Adani stocks are anything to go by, it is not recommended that investors buy Adani shares at this time. The current P/E ratio across all Adani companies is soaring very high, indicating that it is not the best time to buy Adani shares," said Nikhil Varma, Managing Partner, MVAC.
Put simply, P/E Ratio refers to a company's price per share to the earning per share. The lesser the P/E ratio, the better it is for investors to purchase the shares.
"While the value of Adani shares are almost at a 52-week low, the volatility in the shares is still fairly high and may continue to be so in the short term. So, I would not advise to invest in the shares in the short term unless one wants to play on the speculation. For a long term investor, one needs to be selective and pick the right stocks from the bouquet of shares in the Adani group," said Ankit Jain, Partner at Ved Jain and Associates.
Jain believes some of the Adani companies hold good assets such as shipping ports, airports, SEZs, power plants, cement which have good potential for stable cash flow generation in the long run. "At current valuations, some of these companies do look attractive. However, one should be prepared for short term down sides even in such cases as the volatility of other companies will have an impact on their pricing as well," said Jain.
Valuation guru and NYU Stern professor Aswath Damodaran says he will not be tempted to buy shares of Adani group companies even if the group shares fall further. In his Blog 'Musing on Markets', Damodaran said "I have likened buying shares in a family group company to getting married, and then having all of your in-laws move into the bedroom with you. Investors in family group companies, no matter how honorable the family, are buying into cross holdings, opacity and the possibility of wealth transfers across family group companies. Those risks increase, if the family group companies are built around political connections, where you are one political election loss away from your biggest competitive advantage."
A detailed calculation in his blog shows that the stock's fair value should be around Rs 945 per share without factoring any of the Hindenburg accusations of fraud and malfeasance.
'Buy Adani stocks with
a strong asset base'
"The time is ripe time to buy Adani stock of companies which have strong asset base such as ports, gas, SEZ etc. Recent indicators are indicating towards solid fundamentals for these companies wherein they are paying off debts and acquiring more assets. The stocks have dipped enough and are now set to rise but only in the long run. Short term investors should be cautious," said Sameer Jain, Managing Partner, PSL Advocates & Solicitors.
Adani Group on Monday appointed accountancy firm Grant Thornton for independent audits of some of its companies to discredit claims by short-seller Hindenburg Research. This is the first major effort by Adani Group to defend itself in the wake of the Hindenburg report, which accused it of improper use of offshore tax havens and stock manipulation.
It also sought to reassure investors, saying it had strong cashflows, and that its business plans were fully funded.


[ad_2]

Source link