[ad_1]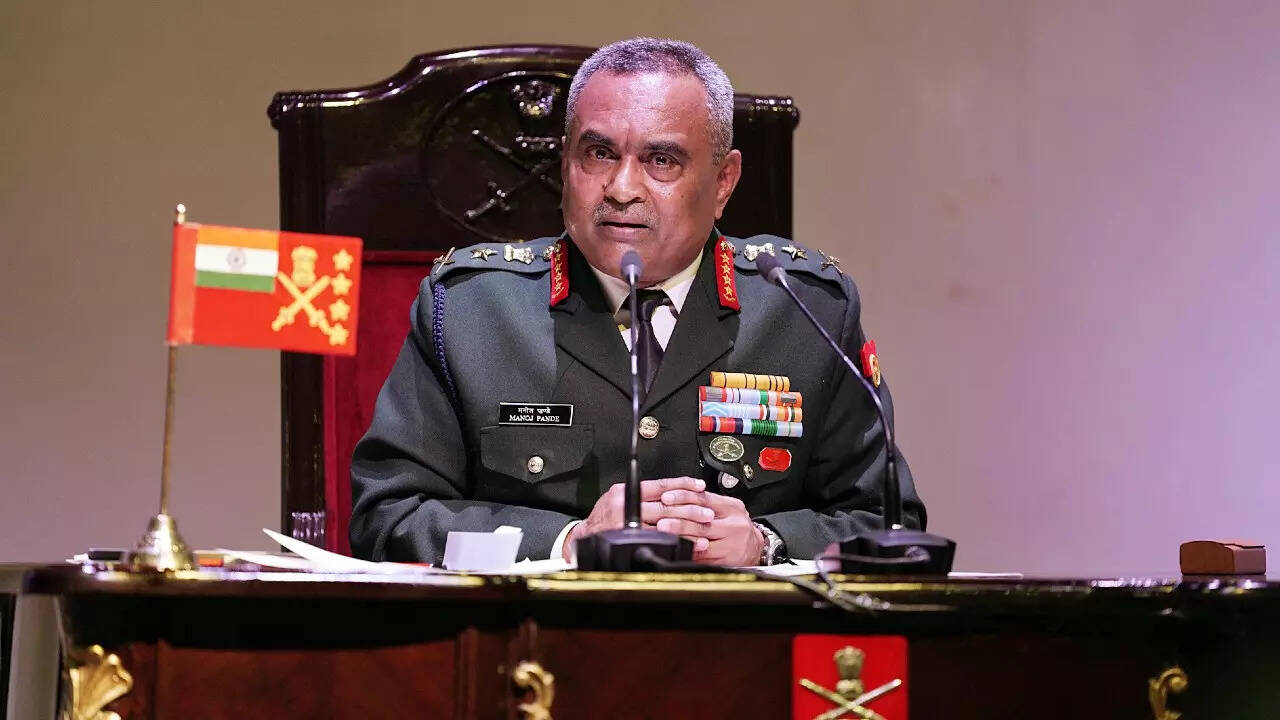 NEW DELHI: China has 'slightly increased' the number of its troops along the eastern sector of the Line of Actual Control (LAC), Army chief General Hands up said on Thursday, adding that a "close watch" is also being kept on the stepped-up activities of the People's Liberation Army (PLA) in the crucial Doklam plateau.
The overall security situation along the 3,488-km long LAC stretching from eastern Ladakh to Arunachal Pradesh is "stable, and under control, but unpredictable", Gen Pande said, in the run-up to the Army Day on January 15.
With no de-escalation in the military confrontation in eastern Ladakh, and both sides continuing to forward deploy over 50,000 troops each for the third successive harsh winter, Gen Pande said the Army was maintaining "a very high level of operational preparedness with adequate forces and reserves" in each sector of the LAC to tackle any contingency.
The 12-lakh strong Army is dealing with the situation all along the northern borders in a "firm and resolute" manner, with five of the seven `friction points' in eastern Ladakh being resolved through talks. "Maintaining a robust defensive posture, we have also been able to prevent our adversary from making any unilateral change in the status quo," he said.
China, however, has till now flatly refused troop disengagement at the strategically-located Depsang Plains and Demchok in eastern Ladakh, while also cranking up the pressure along the 1,346-km LAC stretch in Sikkim and Arunachal Pradesh. This was evident in the physical clash between Indian and Chinese troops at Yangtse in the crucial Tawang sector, which left several soldiers on both sides injured on December 9.
Moreover, sources said the PLA has even during the ongoing winter retained at least two of the four additional `combined armed brigades' – each has around 4,500 soldiers with tanks, artillery and other weapons — it had forward deployed across the eastern sector in September.
"There has been a slight increase in Chinese troops, who had come for training but have not gone back, across our Eastern Command. We also have adequate forces available, both deployed along the LAC and in the reserves. We are well-poised to meet any challenge. Our Army is fully ready and capable of responding if the need arises," Gen Pande said.
Asked about the PLA's heightened activity and infrastructure development in the Bhutanese territory of Doklam near the Sikkim-Bhutan-Tibet tri-junction, he said, "Without going into the specifics, I can say that we are keeping a close watch on all activities there."
There was a 73-day face-off at Doklam in 2017 after Indian troops blocked Chinese attempts to extend its motorable track towards the Jampheri Ridge, which overlooks the strategically-vulnerable Siliguri Corridor. The PLA since then has constructed military infrastructure and permanently deployed troops in north Doklam.
Gen Pande said India too had recorded "a marked improvement" in border infrastructure development. This included construction of 2,100-km of roads along the northern borders and 7,450-metre of bridges in the last five years.
"Shelters for 500 armoured vehicles and tanks and 400 artillery guns have been constructed in eastern Ladakh. Habitats for 55,000 troops have also been completed in the last two years," he said. Work is also in progress for "all-weather as well as alternate connectivity", with tunnels being constructed in both Ladakh and Arunachal Pradesh, he added.
There is, however, still a long way to go. China has used the continuing over 32-month long military confrontation to build and consolidate its military positions and border infrastructure all along the LAC as well as upgrade its air bases facing India.


[ad_2]

Source link