[ad_1]

NEW DELHI: The Union health ministry on Friday advised states to be on alert after two H3N2 deaths were reported from Haryana and
Karnataka.
There are four types of influenza viruses: A, B, C, and D. Influenza A and B viruses cause seasonal epidemics of disease in people almost every year in January to March and the post-monsoon season in India.
Influenza viruses are usually considered to be self-limiting and benign. "But this year, patients suffering from the
infection are reporting prolonged cough, persistent fever and other complications
. Hospitalisation has also gone up, necessitating increased vigilance," said Dr G C Khilnani, chairman of PSRI Institute of Pulmonary, Critical Care and Sleep Medicine.
One of the reasons behind the increased virulence of the seasonal flu is the predominance of H3N2, a subtype of Influenza A virus, which causes more hospitalisations than the other subtypes, senior officials in the health ministry said.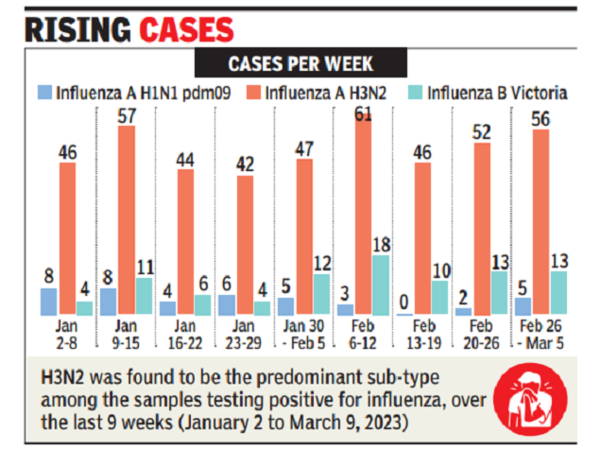 According to the ministry, the ICMR network of laboratories has been monitoring human influenza virus in patients suffering from Severe Acute Respiratory Illness (SARI) and Influenza Like Illness (ILI) regularly. The trends observed from the beginning of this year, January 2 to March 5, clearly suggest pre-dominance of H3N2 which accounts for nearly 79% of all the influenza viruses found in samples taken from persons suffering from SARI or ILI. Influenza B Victoria (14%), a subtype of Influenza B, is the second most common virus subtype and Influenza A H1N1 (7%), also referred to as swine fluis the third most commonly detected influenza virus. "Held a meeting to review rising cases of #H3N2 influenza virus in the country. Advisory issued to States to be on the alert and closely monitor the situation. The Government of India is working with States and extending support for public health measures to address the situation," tweeted Union health minister Mansukh Mandaviya.
Held a meeting to review rising cases of #H3N2 Influenza virus in the country.Advisory issued to States to be on… https://t.co/wLT7Z9MLal

— Dr Mansukh Mandaviya (@mansukhmandaviya) 1678451353000
Sources said Niti Aayog, the apex public policy think tank of the government of India, will also hold an inter-ministerial meeting on Saturday to review the seasonal influenza situation in the states and for ways to further support them in terms of public health measures, management guidelines and protocols to manage increasing cases of the viral infection which causes symptoms such as fever, cough, wheezing and breathlessness among others. H3N2 Influenza Symptoms, Treatment, and Safety Precautions
Oseltamivir is the drug recommended by the World Health Organisation (WHO) for treating illness caused by Influenza A. The health ministry said the drug is made available through the public health system free of cost. "Government has allowed sale of Oseltamivir under Schedule H1 of Drugs and Cosmetic Act in February 2017 for wider accessibility and availability. Adequate logistics is available with the states. However, in case of any emergencies the government of India has been providing the support to the states to tide over the crisis," the ministry said in a statement.
Dr Nivedita Gupta, the head of epidemiology at ICMR, told TOI recently that the spate of infections caused by H3N2 were likely to reduce from March-end or April first week, as temperature begins to rise.
According to the ICMR, which conducted a survey among patients hospitalised with ILI and were later confirmed positive for H3N2, 92% patients were found to have fever, 86% had cough, 27% breathlessness, 16% wheezing. Additionally, the ICMR surveillance found, 16% such patients had pneumonia and 6% had seizures. "About 10% of patients suffering severe acute respiratory infections caused by H3N2 needed oxygen, and 7% required ICU care," the apex health research agency said. H3N2 becomes cause of concern, health experts advise wearing mask: RML Hospital Director


[ad_2]

Source link