[ad_1]

NEW DELHI: Australia legend
Ian Chappell
opined that the pitch in Nagpur was "by no means impossible to play on", and called it nothing more than a fairly typical first-day Indian red-soil wicket.
Chappell added that the noise around the pitch was not unexpected, but asked Australia to stop thinking about pitches in India and just concentrate on their job.
"It was by no means impossible to play on, as Marnus Labuschagne and
Steve Smith
showed, but Australia failed to post a testing first-innings total. The media making allegations about pitch-doctoring is nothing new. Players need to ignore this little game or else it has a debilitating effect on the visiting team," the former Australian captain wrote in his column for ESPNCricinfo.
India faced typical pitch doctoring allegations in the build-up to the Nagpur Test.
"The noise was exactly that in the case of the pitch. Not unexpectedly, it turned out to be nothing more than a fairly typical first-day Indian red-soil wicket," Chappell wrote.
Chappell also feels Australia's capitulation in the first Test against India has exposed their frailties against spin, and said the touring Pat Cummins-led side needs to adapt to the conditions quickly.
Spin duo of Ravichandran Ashwin and Ravindra Jadeja bamboozled Australia on a typical red-soil wicket as the visitors crumbled to their lowest total in India — 91 — to suffer an innings defeat inside three days in Nagpur on Saturday.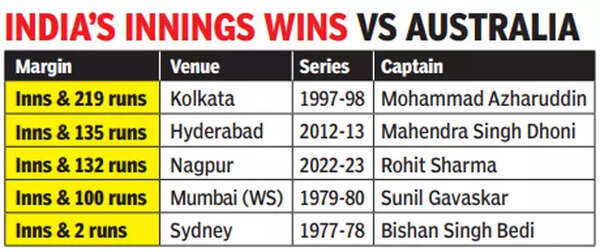 "The first Test has exposed Australia's weakness against good spin bowling on turning pitches. If they can ensure this setback doesn't mean their mental capacity to cope in India is not dented, it will keep them in the series. If they waver, they are in big trouble," Chappell added.
"Far too much emphasis is put on how pitches are going to play and on doctoring. It's worth remembering that both teams have to play on the same pitch," he added.
He said India currently boasts of a strong side and has the ability to win in any conditions.
"The reality is that India have developed into a very strong side all round the world, with a special feel for how to win at home," the 79-year-old wrote.

Citing example of Rohit Sharma's "masterful" century that took India to 400 in the first innings, he wrote: "If Australia, who have a weakness against spin in India, don't adapt to conditions quickly, they are going to suffer the same fate that has befallen other visiting sides."
Chappell further questioned the omission of off-spin all-rounder Travis Head.
"The omission of Travis Head, despite his troubles against good spinners, was difficult to fathom. The choice of off-spinner Todd Murphy in his first Test after only seven first-class games was brave. Nevertheless it also displayed great faith in Murphy's skills," he wrote.
"In the end the choice Australia made, to favour economy over wicket-taking potential, quickly took its toll and India capitalised on bowlers tiring from a heavy workload," he added.
(With inputs from PTI)


[ad_2]

Source link