[ad_1]

ROURKELA (Odisha): Had India not held onto their 5-4 lead and resultantly finished fourth at the Tokyo
Olympics
a little over a year ago, a lot would have looked different at the 2023 World Cup beginning in a day's time here in Odisha. But India managed to avoid that scare, when veteran goalkeeper PR Sreejesh thwarted the last throw of the dice by the Germans in the dying seconds.
The pent-up emotion of generations across 41 years turned into a picture on the field at the Oi Hockey Stadium in Tokyo. And while the Indian team soaked in the historic moment amid tears of joy, Sreejesh climbed up the goal post to sit like Mufasa, the Lion King, overseeing his kingdom.
Had it not been for that bronze-medal return to the Olympic podium after more than four decades, Sreejesh and a few others of his generations may not have gathered the strength to carry on, and be here at the 2023 World Cup being hosted jointly by Rourkela and Bhubaneswar from Jan 13 to 29.
It's the fourth World Cup for the Indian hockey legend, and the third on home soil — a feat no other player has managed. Of course, it helped that those three World Cups in India happened during the last 13 years of Sreejesh's hockey career. But that's not what he controls, neither the destiny.
At 34 and after a career spanning 224 international matches, his pranks may have gotten a bit complex for the youngsters to comprehend. But Sreejesh hasn't stopped pulling those out on his teammates. It's his way of bonding.
Targeting a World Cup medal, and possibly gold, before putting his stick down, Sreejesh hopes India can pull it off.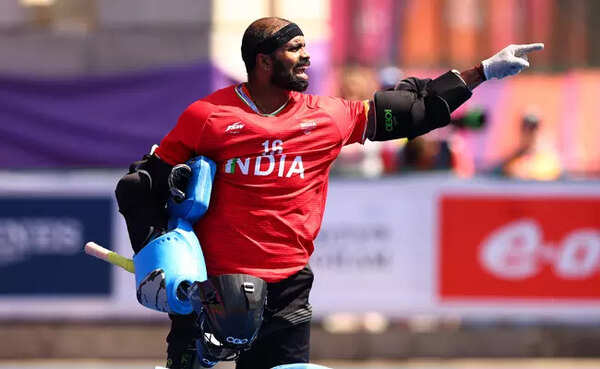 PR Sreejesh (Getty Images)
Excerpts:
How is Rourkela treating you?
Rourkela is treating me well. They don't have any other option (laughs).
A lot cooler than Bengaluru, and also Bhubneswar….
Ek dum mast thanda hai. North jaisa nahi hai (it's nice and cold, though not like the north of India), but on days it's really cold in the night, and then it gets normal again.
So it's going to suit the European teams?
That is there, it's advantageous for them in a way. But for the Australians and the New Zealanders, it's summer back home. So it's a little different for them. But for the rest it surely is a bit of an advantage.
We might play the Aussies in the quarterfinals?
Depends. If we finish on the top in our pool, then we are likely to face either Germany or Belgium. But if we go down (and reach the quarters via crossovers), then there are chances to see them (Australia) in the quarters. From the first day itself, there are no easy games. Spain, then England and Wales also played really well at the last Commonwealth Games.
On a slightly nostalgic note, is it a special World Cup for you?
Definitely it is because I think I'm the only fortunate, luckiest player who has got the opportunity to play three World Cups in his own country. I don't think anyone in the world got this opportunity. So maybe, this is a piece of history. I consider this as my last opportunity to win a World Cup medal. So it's really nostalgic and a precious one for me.
After the Olympics, you had said that you are going to give yourself one more year in international hockey and try to finish on the podium at this World Cup….
I am at a stage where I cannot dream about another three or four years. So I have learned to set short targets. This World Cup was my target, so I'm here. Now I do have another target in front of me, that is the Asian Gameswhich is coming in another six or seven months, so definitely I am giving myself one more year. And then the Paris Olympics are coming (in 2024). So as long as I believe that I'm fit enough and my performance is okay, and if the coaches feel I'm capable of being there (in the team), then I don't mind playing another one or two years. That's not an issue.
But still, as I said, I'm now setting short-term targets for myself. The World Cup is here, so I can look forward to the Asian Games next. And I can say that I will be there till Paris (Olympics), here and there (laughs).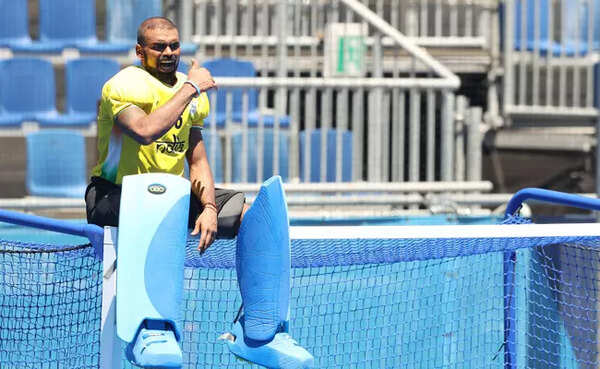 PR Sreejesh (Getty Images)
At 34, are your pranks still young enough for the new boys to get used to?
The pranks are there, but the problem is that the kids are too young to understand my pranks (laughs). So I need to plan my pranks in a better way. I try to create all these funny moments with my much younger teammates, so that they don't feel that gap between me and them. If there is anything, they can come to me and talk to me. When you are super senior, they do have a hesitation to approach you…I want to give them that freedom, or that open space, so that they can ask me anything, even their stress issues or any family issues. Those things help us to build a good team and also help me being a senior to get involved with the youngsters. So the pranks are part of team bonding.
Age difference is only off the field. On the pitch, during training, we challenge each other. They try to score and I try to stop them from doing that. So there are no seniors or juniors there.
The main difference is the thinking. When you are young, your blood is boiling, you are hyperactive, you think a lot, you know you have the energy to do everything. But when you are getting older, you are experienced, then you become more wise. You take decisions, you don't do unnecessary things. Like somebody younger would like to go to a disco, they want to dance. But when they reach my age, they would love to sit in the lounge, listen to the live music, and have a good meal. That is the difference. But on the field, there are no changes. It's about you hit, I stop.
Do you sit down with these guys and tell them how to control their adrenaline rush and avoid unnecessary mistakes?
Definitely. After every tournament, we analyze our performance. We discuss that and we point out mistakes… The top teams are top teams because they take advantage of the opposition's mistakes and they punish the opposition. So that is the difference. That is what I always tell the young players…that pressure grows with your mistakes…Even if you make a small error, the big-tournament pressure will make it feel like a big mistake. So I tell them, just concentrate on your basics, try to do those in the right way, and when that is good, you look good. And when you look good, you gain confidence. That confidence will help our team to perform well.
Even at the Tokyo Olympics, after the Australia match (India lost 1-7), everyone started to think differently (about the team's prospects), but we played differently after that. So that is what I'm expecting now after this Australia tour (which happened just before this World Cup).
After the last match on that tour, we learned that we can't make even small errors or go in with a 50:50 mentality. Now is the time to realize that we are playing the World Cup and have to give our 100%. There is no time for regret.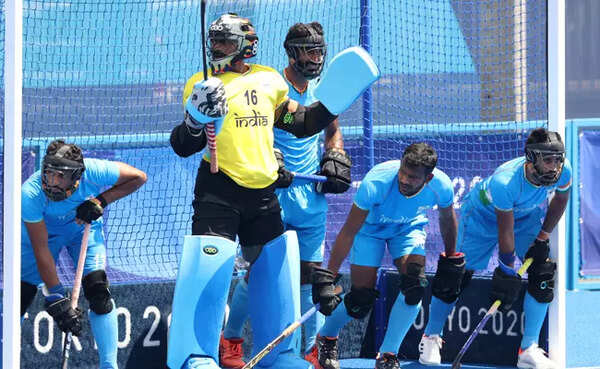 (Getty Images)
Has the team acclimatized to the cold weather, which is important because we play all our pool games in late evening when the temperature dips?
We have been here (in Rourkela) for 10-12 days now. It's a manageable cold. But as I said, some teams will have that advantage because they are coming from the winter season in their country, so they are capable of managing that. And we too have to do that. There is no other option (smiles).
Of course, Spain is a difficult team to beat as well, but do you believe your match against England will decide who ends up on top of Pool D and goes straight to the quarterfinals?
No, all the matches (are tough). You cannot take any team lightly here. Spain are really good and they showed that in their Pro League matches with their team strategy, planning changes for every match. They come up with new ideas. So they're also a good young side and even England has been playing really well. We saw that in the Commonwealth Games and Pro League. Wales also…You don't have any matches here to sit back and relax. Each point counts..We just want to finish on top in our pool. Otherwise, you know that in a tournament like the World Cup, if you're playing one extra match, the pre-quarters (crossover matches), it is an added effort. So we want to try and avoid that.


[ad_2]

Source link