[ad_1]

NEW DELHI: The Supreme Court on Monday referred a bunch of pleas seeking legal recognition for
same-sex marriages
to a five-judge constitution bench for adjudication, saying it is a "seminal issue" and an "important matter".
The apex court took the step despite the
Centre's insistence that Parliament alone should take a call on the subject
whose intricacies could impact "how our society develops henceforth".
A bench of CJI D Y Chandrachud and Justices P S Narasimha and J B Pardiwala decided to invoke the apex court's powers under Article 145(3) to directly refer the issue to a five-judge bench on finding the petitions demanding legalisation of same-sex marriage had raised important constitutional questions. The hearings will commence from April 18.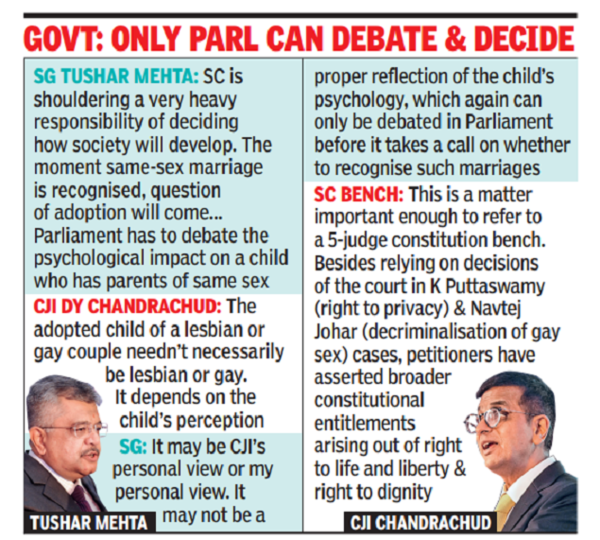 With the petitioners giving a 32-hour long argument schedule by their advocates, which is a little more than two weeks, solicitor general Tushar Mehta said, "Please do not cut down arguments of anyone. This is an issue that will affect society as a whole. Please have the entire gamut of the issue. The SC is shouldering a very heavy responsibility of deciding how society would develop henceforth. It is not a matter of a few hours or days, it will have to be gone into threadbare."
A battery of senior advocates led by N K Kaul, A M Singhvi and Menaka Guruswamy were vociferous in demanding conferment of the right to marriage on LGBTQ members saying though Navtej Johar judgment decriminalised same-gender sexual relations, the fruits of legalisation of right to love a person of any gender have eluded the much discriminated members of these communities without conferment of the corollary 'right to marriage" as part of their right to dignity.
The SG said the LGBTQ community members' right to love, right to express and right to freedom of choice have been articulated by the SC in Navtej case and no one is interfering with these rights. "While holding that right to love a person of any gender is a right, the SC had carefully clarified that this did not mean conferring the right to marriage to these classes of people," he added.
"When question of granting legal sanction to marriage is concerned, it is essentially a function of the legislature. The moment same-sex marriage is recognised, question of adoption would come. Parliament must examine this. In this, Parliament has to debate the psychological impact on a child who has parents of the same sex, either two men or two women, juxtaposed to a child groomed by a heterosexual couple. Parliament will take a call, keeping in view societal ethos, and several other factors which go into law making, whether same sex marriage could be legally recognised," the SG said.
On SG's reference to psychological impact on child reared by same-sex couples, CJI Chandrachud said, "The adopted child of a lesbian or gay couple need not necessarily be lesbian or gay. It depends on the child's perception." 'Living together as same sex partners not comparable with the Indian family unit concept', says government in Supreme Court affidavit
Mehta said, "It may be the CJI's personal view or my personal view. It may not be a proper reflection of the child's psychology when groomed by such couples, which again could only be debated in Parliament before it takes a call either to recognise such marriages."
The bench said, "This is a matter important enough to invoke Article 145(3) of the Constitution and refer it to the five-judge constitution bench. It is a seminal issue. The petitioners seek recognition of the right of same gender couples to marriage. Besides relaying on decisions of the court in K Puttaswamy (right to privacy) and Navtej Johar (decriminalisation of gay sex) cases, petitioners have asserted broader constitutional entitlements arising out of right to life and liberty, right to dignity which is embodied in the provisions of the Constitution including its Preamble and Articles 14, 19 and 21."
"Having regard to the broader context of the petitions before this court and the inter-relation between statutory regime and constitutional rights, it is appropriate that the issues raised are resolved by a five-judge bench having due regard to Article 145(3)," the bench said. Centre files affidavit in Supreme Court opposing same-sex marriage
Watch Same-sex marriage in India: Supreme Court refers all petitions to a five-judge constitutional bench


[ad_2]

Source link