[ad_1]

NEW DELHI: At the conclusion of the nine-day marathon arguments related to the validity of
rebel Shiv Sena MLAs toppling the Maha Vikas Aghadi government
last year, the Supreme Court on Thursday said it could be difficult to reinstate the Uddhav Thackeray government even if it finds then Maharashtra governor Bhagat Singh Koshyari's decision to ask then
chief minister (Uddhav) to face trust vote unconstitutional
.
During the concluding submissions of senior advocate A M Singhvi, a bench of Chief Justice D Y Chandrachud and Justices M R Shah, Krishna Murari, Hima Kohli and P S Narasimha asked, "If on analysis of the arguments from both sides and on scrutiny of documents, we conclude that the governor had no material to ask the CM to face call a trust vote on June 30, what consequential relief should be granted?" Singhvi promptly replied that the only relief that could be given, in such an eventuality, will be restoring the MVA government. To that, the bench said, "How can we reinstate a government which itself admitted having lost majority in the House by resigning voluntarily without facing the trust vote?" Sena vs Sena: Supreme Court constitution bench reserves judgement
"If you had faced the trust vote, then on finding that the governor's decision was unconstitutional, we could have set aside the trust vote. But you did not want to face the trust vote. If we restore you now, it would create a constitutional conundrum," the CJI said. The bench reserved its verdict on the petitions.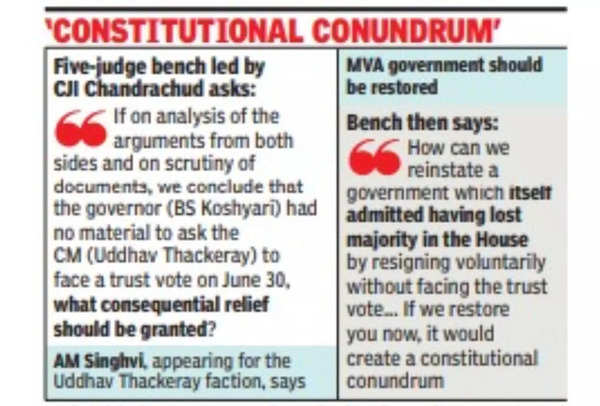 Earlier, senior advocate Kapil Sibal, also appearing for the Thackeray faction, took cue from Wednesday's critical queries by the court to governor Koshyari to pillory him for recognising a faction within the Sena as the party and making internal matters of a party a ruse to unconstitutionally call for floor test and provide means to an unholy conspiracy to topple an elected government.
Adept in the craft of enacting legal melodrama in courtrooms, Sibal said the SC must step in decisively to save democracy by striking down the governor's unconstitutional acts in calling for trust vote which led to toppling of an elected government and the decision to swear-in Eknath Shinde as CM. "When we enter this courtroom, we are in awe of its aura and come with hope. You (the SC) are the only hope for 1.4 billion people. You (the SC) can't allow decimation of democracy in this uncouth and uncivilised way," he said in a wry tone.


[ad_2]

Source link