[ad_1]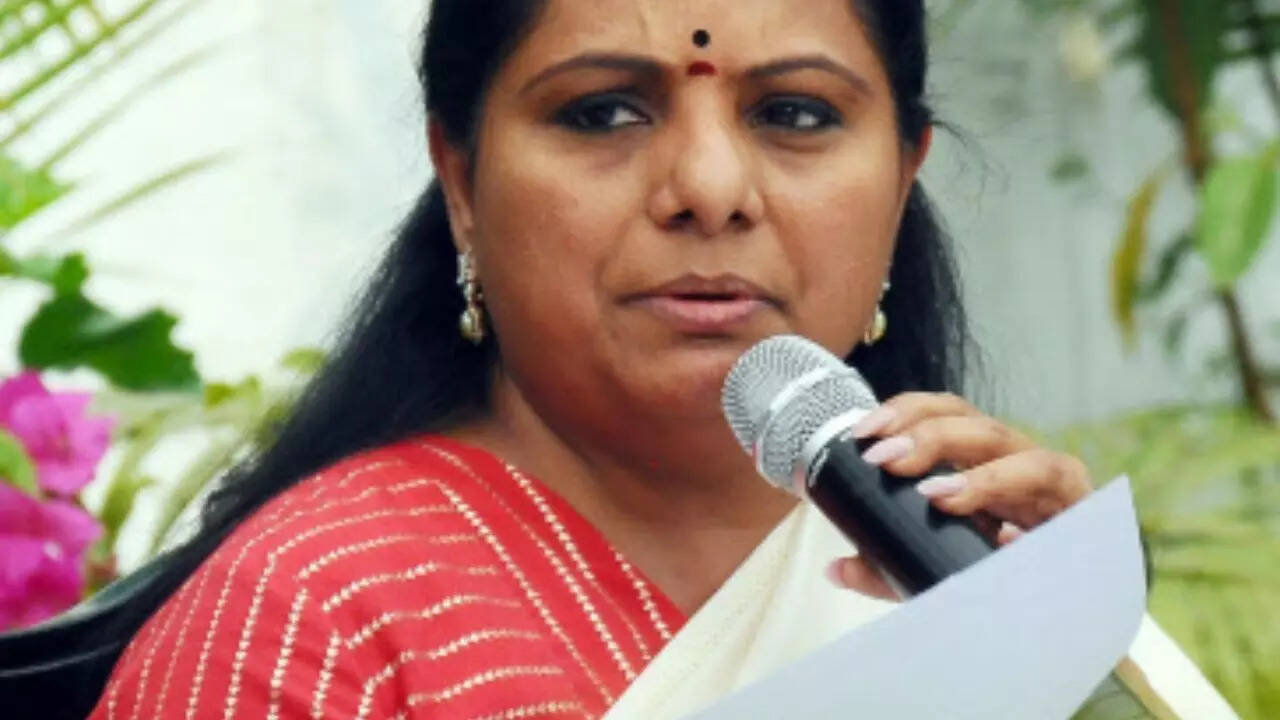 HYDERABAD: Stating that she would appear before Enforcement Directorate (ED) and cooperate with the agency on March 11, MLC and founder of Bharat Jagruthi,
Kalvakuntla Kavitha
asked why BJP's BL Santosh evaded the Special Investigating Team (SIT) earlier in MLA's poach gate case in Telangana.
The MLC, who was summoned by the ED to questioning, said why was the ED in a rush to question her and deliberately chose a day before her protest on Women's Reservation Bill in Delhi?
"I requested the ED to investigate me at my home in Hyderabad as was done earlier. But the ED authorities denied. If this can happen to me, it can happen to others also," the MLC said during a press conference in Delhi on Thursday.
The daughter of Telangana CM K Chandrasekhar Rao said that provisions should be made to ensure women can comply with such investigations at any level, including via video calls and virtually. She announced that the BRS party has decided to raise this issue and take it forward to ensure correct procedures are put in place. MLC Kavitha, while responding to the way forward, said that "I am a law-abiding citizen, I'll comply and cooperate with the investigation agency as we understand their obligations towards the BJP government".
She said since Telangana assembly polls are due in November or December this year, the investigating agencies are raiding the BRS leaders and their relatives.
"Telangana is currently on the radar of the BJP as their "Modi se pehle ED" agenda has been unleashed, she said.
Kavitha said that more than 100 CBI raids, 200 ED raids, over 500 income tax raids, and 500 to 600 people have been questioned under the NIA. She said "all of them are either politicians, members of our party, or business houses that don't subscribe to the BJP's diktats".
The ex-MP said, "this is not my issue alone, in our party, 15–16 leaders have been targeted. My request to PM Modi would be to go talk to people and tell them what they have done for Telangana and the country. They should try to win hearts before winning elections."
She said that "nine states have witnessed the BJP's pre-poll intimidation tactics, it won't work with us. We won't be intimidated; we have won people's support and will continue to do the same. We will continue to expose the BJP's failures. They have failed the army, youth, and farmers already".
"The double engine sarkar which actually stands for 'Pradhani and Adani sarkar,' works in the interests of only a few, and therefore the opposition is oppressed and harassed for raising their voices. But why does the government punish the common man with bad governance and policies,?" asked Kavitha.


[ad_2]

Source link