[ad_1]

MUMBAI: RBI governor Shaktikanta Das has said that events around the Silicon Valley Bank (SVB) failure in the US highlight the need for banks to be prudent in their asset-liability management and grow their deposits in a sustainable manner. He also said that the incident brings out the dangers that cryptocurrencies pose to banks.
"Recent developments in the US banking system have brought to the fore the criticality of banking sector regulation and supervision. These are areas which have a significant impact on preserving the financial stability of every country," Das said in a speech on Friday. Without specifically naming SVB, Das said that developments in the US drive home the importance of ensuring prudent asset liability management, robust risk management and sustainable growth in liabilities & assets, undertaking periodic stress tests, and building up capital buffers for any unanticipated future stress.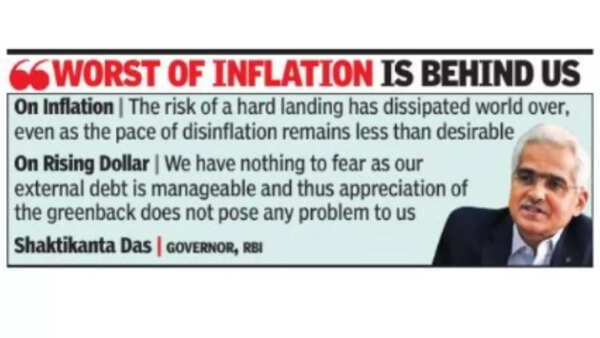 Das was optimistic about the world economy. "The risk of a hard landing has dissipated world over, even as the pace of disinflation remains less than desirable," he said. He was delivering the K P Hormis commemorative lecture at Federal Bank's headquarters in Kochi.
Das said that the Indian financial system was stable as it was backed by a well-regulated and -supervised banking sector, along with a well-regulated NBFC sector and other financial entities that are under the central bank's domain.
"We are now doing a much deeper dive into the business models of banks, which may not be to the liking of the banks. They may feel that we are interfering in commercial operations. We are not. We sensitise them that we have analysed… we find that this problem is developing in your bank. Has this problem been considered by you? If not, let the bank board take a decision."
The RBI governor also said that, although there was volatility in exchange rates, India's external debt was within manageable limits.
Das said that the group of world's largest 20 economies (G20) should enhance their coordination to help those countries that face challenges relating to high external debt due to the recent strengthening of the dollar. He also stressed on the immediate need for the G20 to provide climate change financing to the most affected countries.


[ad_2]

Source link